The Five to One Apartment is the latest evolution of MKCA's research on micro housing, containing the functional and spatial elements for living, working, sleeping, dressing, and entertaining, plus kitchen, dining, and bathing space within a compact 390 sq ft (36 sq m) apartment.
A motorized sliding storage element glides from one end of the room to the other, revealing and exchanging spaces between daytime and nighttime zones. As the moving volume pulls away from the wall, it reveals a dressing room zone with built-in dresser drawers and clothing storage. Fully extended, the space for a queen-sized fold-down bed is created.
The sliding element is powered and cabled for television and audio, and houses all of the audiovisual and networking components of the apartment along with additional storage and display space. A pivoting enclosure with custom speakers allows the television to rotate 180 degrees for viewing from the seating area, or the bed and dressing rooms. A built-in nightstand with power for a reading light and alarm clock is located adjacent to the headboard.
During the day, or when the bed is closed the bedroom space is returned to the living and working spaces of the apartment. Rows of open library and display shelving in powder-coated steel are cantilevered from a lacquered cabinetry wall. Lower cabinets house a printer and other computer peripherals, while an adjacent cabinet is used as a dry bar. A pair of sliding doors reconfigure the unpacked spaces, revealing zones for dressing and storage while masking work zones or vice versa. Space for a full-sized sofa is preserved opposite the television and sliding wall. A dedicated dining area large enough for four was created adjacent to the living room.
Situated in a 1920's co-op building in the Gramercy Park neighborhood of Manhattan, the apartment was entirely reimagined by MKCA. The existing kitchen was expanded to create more working space. New minimally detailed solid surface counters with integral sink and white lacquered cabinetry with integral pulls were added, along with generous pantry storage and refrigerator.
The existing bath was thoroughly renovated and an additional linen and laundry hamper cabinet was added, along with a new pocket door. New LED lighting was added throughout the apartment, in a lighting cove above the cabinetry, and along millwork lighting baffles added to the underside of the existing beams.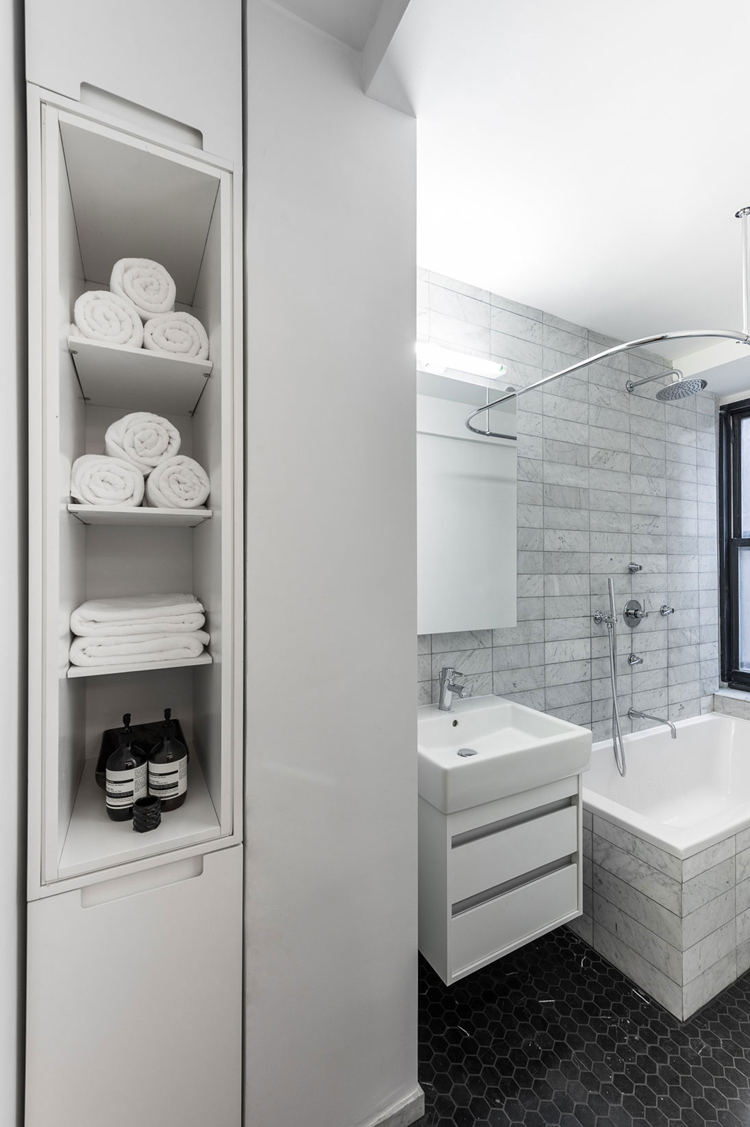 all images © Alan Tansey