With its wide walls of glass and a ribbon-like white façade that winds its way around the building, this home designed by Swiss architecture and design studio Evolution Design on the banks of Lake Zurich seems a futuristic vessel. Called Flexhouse, the four-storey, 173 sqm home features a180 degree views on Lake Zurich up to the mountains beyond.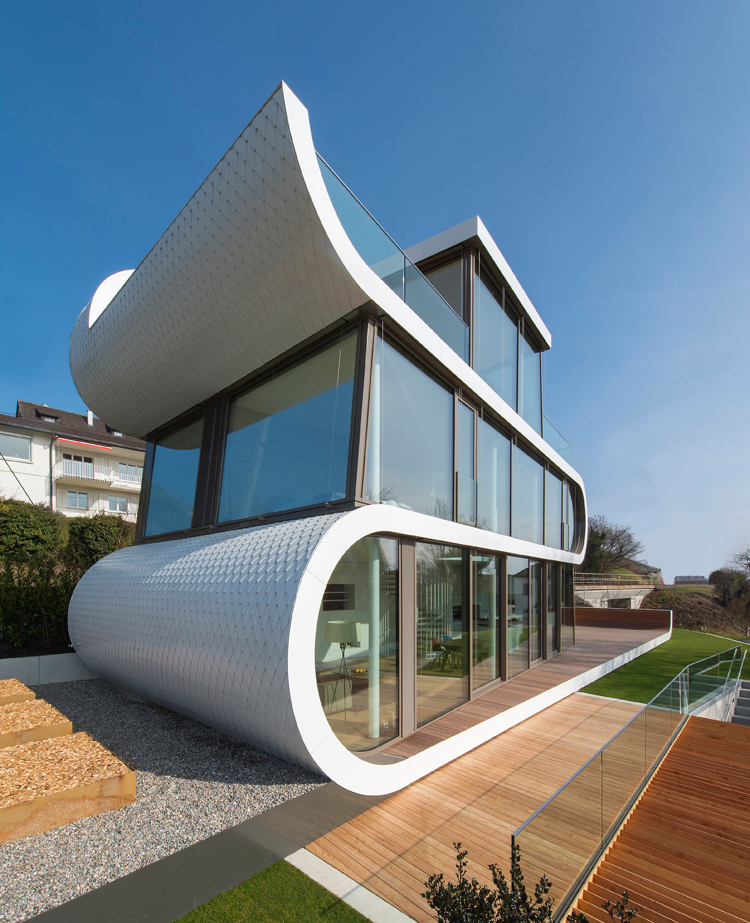 The project began when Evolution Design executive director Stefan Camenzind spotted a vacant block of land. The plot was well positioned on the banks of Lake Zurich but was a challenging site, triangular in shape, narrow and squeezed between a railway line and a road. Camenzind, though, saw potential in the position.
"It's a very transient plot; it has a lot of movement. The land is at the edge of the village where housing meets the countryside. The railway lines behind the plot are a dynamic yet soothing boundary, and in front of the house there is a local access road and the lake. We wanted to create a building that reflected all that movement," he says.
Swiss building regulations are notoriously tight and building on this block was particularly challenging.  "There are strict rules around boundary distance and building volume, which means it's quite difficult to be creative with buildings in Switzerland," says Camenzind. "But we were determined to build something that responded to the site rather than just a square box planted on the plot."
Flexhouse is anything but a square box. The design features a floor plan that goes from wide to narrow to follow the railway lines and shape of the plot. The striking façade wraps around the building, drawing the eye continuously upward: the house never feels stiff or still, there are always elements drawing your eye throughout the space and to the views beyond.
"We've given the space a direction of view. When you're travelling in a car or train, you face a certain way and this house does too. On the ground floor it faces south-east, from the bedroom it faces west towards the sunset. And from the top floor terraces there are views around 180degrees," says Camenzind.
The fluidity of the design continues inside, thanks to an open plan interior, unbroken views and reams of natural light, which streams throughout the space all day long. On the ground floor, the spacious living room transitions into a dining area and loft-style kitchen. Rather than close off individual floors, the design incorporates a double height open space that allows the eyes to travel, delivering a glimpse of the bedrooms above or, from the first floor, to the living room below.
With glass walls on three sides this home blurs the boundaries between outside and in. "Connecting inside and out is very important to me as an architect," says Camenzind. "I want people to know where they are when they are inside a building."
The top floor studio with its panoramic views and two roof terraces is the culmination of this seamless flow between inside and out. The house does have its quiet corners, too. "There's always a back wall, which helps give a more cosy feeling," Camenzind says."And you can close the blinds to create a peaceful, private corner."
all images © Peter Wuermli