Located in a heritage-listed building in Melbourne, Australia, the Flinders Lane Apartment by Clare Cousins Architects is the result of the refurbishment of a 75m2 apartment for a young family. Traditional Japanese houses inspired the two new 'micro' bedrooms. The size of the first, just 2m wide, was determined by the length of a single bed; the second, a raised platform to support the mattress-only bed, is cocooned by plywood. Sliding screens permit the room to be visually open providing additional seating to the living space, and like the Japanese inspiration, it can be transformed to a private zone by sliding the screens closed.
A nod to Shigeru Ban's Furniture House, the full-height joinery separates the micro rooms from the living space and is accessible from both sides, providing flexibility in how the storage is used. A mezzanine loft provides a sleeping platform for guests, and access to additional storage. A compact work station is integrated in the nook below.
With a footprint of just 25m2 per person, the design minimises the sleeping areas of the small apartment and maximise the living and social spaces to be enjoyed by the occupants. The new floor plan makes the most of generous ceiling heights and precisely locates each of the joinery walls to take advantage of the original windows on three of the four perimeter walls. The resulting light filled living rooms provide amenity commonly found in much larger houses.
The limited palette of materials is designed to enhance the sense of space in the apartment and also reduce costs. Low-cost materials have also been used in the bathroom, where inexpensive tiles are arranged in different sizes to give the walls and bath a more bespoke look. Gold-electroplated taps also increase the sense of luxury in this space.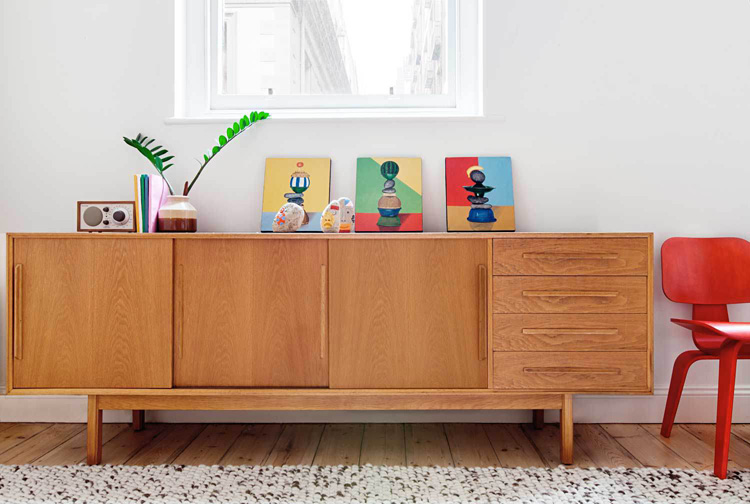 all images © LISBETH GROSMANN