Swiss art curator Klaus Littmann has planted 300 trees in a football stadium in Austria in support of today's most pressing issues of climate change and deforestation. Bringing together art, nature and architecture in an unprecedented way, this monumental art intervention, dubbed FOR FOREST – The Unending Attraction of Nature, sees the transformation of Wörthersee football Stadium in Klagenfurt into a native central European forest, with almost 300 trees, some weighing up to six tons each, carefully installed on the existing pitch.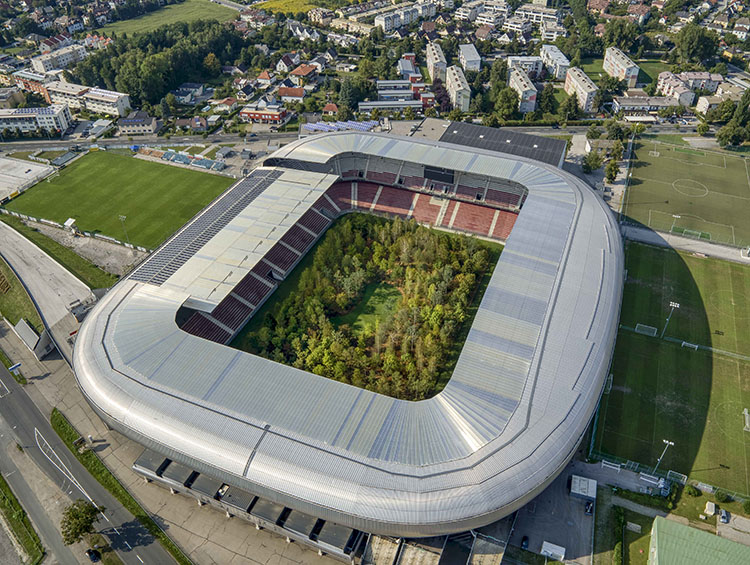 Inspired by The Unending Attraction of Nature, a dystopian drawing by Austrian artist and architect Max Peintner (b. 1937) that Littmann discovered almost thirty years ago, FOR FOREST finally brings that vision to life. Rallying in support of today's most pressing issues on climate change and deforestation, FOR FOREST aims to challenge our perception of nature and question its future. It seeks to become a memorial, reminding us that nature, which we so often take for granted, may someday only be found in specially designated spaces, as is already the case with animals in zoos. 
Overseen by Enea Landscape Architecture, the forest is composed of a diverse range of species such as silver birch, alder, aspen, white willow, hornbeam, field maple, and common oak. Once transplanted the forest will take on a life of its own, changing colours as the season turns and attract wildlife. 
Seating up to 30,000 spectators, the surroundings of Wörthersee Stadium will dramatically shape the visitor experience. From 10 am until 10 pm daily, audiences will experience a unique panorama of trees, day and night, under natural light or by floodlight. Encountering FOR FOREST will trigger a multiplicity of responses and emotions, and depending on the time of day or night the trees will form an ever-changing landscape. This captivating panorama will pave the way for a whole new perspective and understanding of forests. 
After the free art intervention at the stadium ends on 27 October 2019, the forest will be carefully replanted on a public site in close proximity to Wörthersee Stadium at a scale of 1:1 and remain as a living 'forest sculpture'. Parallel to this, a pavilion is planned in order to document the project for the long-term. 
FOR FOREST is the trigger for a vibrant program of related satellite events and exhibitions across the city of Klagenfurt. One of the highlights is the joint exhibition Touch Wood at the Museum of Modern Art in Carinthia (MMKK) and at the Stadtgalerie. The Wulfenia Cinema and CineCity have organized a specially curated film program which explores the themes of nature and the environment and includes screenings of Werner Herzog's Fitzcarraldo, Werner Boote's Plastic Planet and Jan Haft's The Green Planet. Entry to the film screenings is free for the duration of FOR FOREST. Further art projects are planned for public urban spaces, including exhibitions by the Lendhauer Association and performances by Vada, the smallest theatre in the world. Wörthersee football Stadium will also become the backdrop for performances and rehearsals by world-renowned Vienna Burgtheater. 
The journey to realizing FOR FOREST traces a line back to exhibitions Littmann conceived and produced such as Fussball in der Vitrine with Werner Jehle (Basel, 1982); Kultort Stadion (Basel, 2003); Faces of Football (Vigo & Vitoria, 2008); Move for Life (Basel, Lyon, Paris, 2006-2011); Real Fiction Cinema (Switzerland, 2010-2012 & China, 2015-2016) and Jardin des Planètes (Basel, 2018). These projects among others reveal Littmann's longstanding interest in the relationship of popular culture with art. 
FOR FOREST is open daily, free to access and on view until 27 October 2019.