Hong Kong's most compelling new lounge-bar designed by NC Design & Architecture, paying homage to quintessential British heritage: the finest handcrafted umbrellas and the traditional private members' club.
Access to the 4,300 square feet space – a fantasy world inspired by the globe-trotting adventures of an English gentleman and named after his love's favourite (but potentially deadly) flower – is via a 'secret' door in the Fox Shop, an elegant walk-through boutique featuring classic silver handle-umbrellas immaculately presented 'Kingsman-secret-service-style' within bespoke-design brass edged wall cabinets.
Touch one 'special' meticulously carved silver handle to enter Foxglove's exclusive inner sanctum reminiscent of all the luxury and glamour of first class airplanes, trains and vintage cars – with a distinctly contemporary and playful twist that highlights the age-old pleasure in discovering hidden elements in special places.
The unapologetically cinematic interiors draw on a moody palette of darker finishes, shadows, form and rich materials to give the space – part retreat, part escape – an aptly masculine allure.
The main lounge and cocktail bar featuring an elegant silver-grey marble top counter sits at the heart of the space, hinting at their covert nature with luxurious deep ink blue leather seating for 80 guests offset by a dramatically sculptural cream lacquered ceiling that wraps around the bar.
Meanwhile, a VIP room featuring blood red sumptuous seating for 32 guests evokes the ambience of a vintage First Class train cabin with a gently arched ceiling and walls clad with umbrella stems. Custom lights reminiscent of classic car headlamps add to the cinematic experience.
To enter the VVIP room, guests place their hand on a traditional floral painting at the end of one corridor until it glows, signaling the bartender to open the door.
Inside, the classic library setting raises the bar for exclusive sanctuaries with bookshelves that wrap walls and the ceiling, enticingly comfortable leather club chairs, a warm and intimate emerald green palette and elegant marble bar counter.
The sense of fantasy continues with a witty nod to ship-cabin-style washrooms accessed by a corridor where mesmerizing mirror trickery turns up the glamour dial.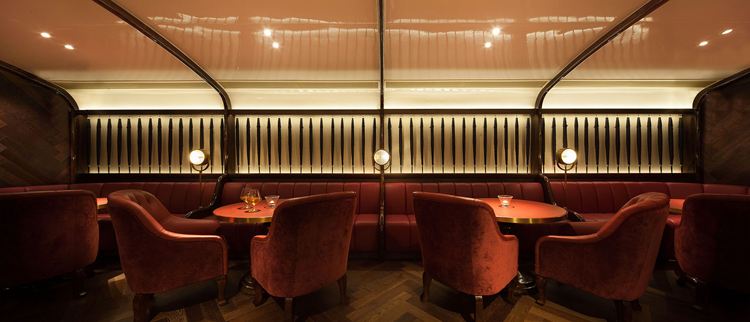 all images © Dennis Lo Designs