Selfridges London invites its customers to enjoy a groundbreaking new way to shop for fragrance as part of its Beauty Project. Campaign and The Future Laboratory have designed an interactive 'Fragrance Lab' for shoppers at Selfridges' flagship store on London's Oxford Street. Fragrance Lab enables customers to claim their signature scent, having experienced a one-of-a-kind retail journey that is as immersive as it is entertaining.
With Fragrance Lab, Selfridges offers a tantalising glimpse into the future of in-store retailing. This new retail experiment perfectly exemplifies how customer habits, preferences and tastes, as well as their physical interaction, will be used in the future to develop a personalised service or product.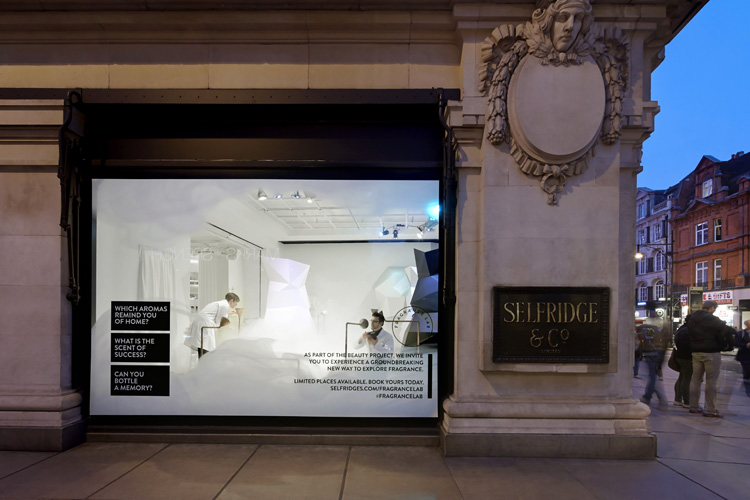 The consumer's physical presence and responses to stimuli and questions inform the alchemy of the fragrance to offer a more meaningful, multi-sensory and customised consumer experience. Customers don't choose from a product selection, the product is created to suit them.
The customers will end the journey with a fragrance created by Givaudan perfumers, industry-leading sensory experts, that reflects their experience in the space. Not only will the scent encapsulate their character, but the bottle shape, label and language used to describe the scent will be tailored to every element of their personality.
Each fragrance will come complete with a 'fragrance prescription' – a horoscope of sorts – that will outline the key findings gleaned from their olfactive journey and how these have influenced the final scent choice.
The Fragrance Lab will be open at Selfridges in London until 27 June. Appointments can be booked on the Selfridges website.