Danish firm COBE designed this Copenhagen kindergarten to look like caricatures of homes of a small village with peaked roofs as drawn by children. The small scale village atmosphere at Frederiksvej Kindergarten is achieved by dividing the building into 11 small houses joint together with different orientation. The various play programs in the kindergarten are centered around two winter gardens that resulted in these small, individualized spaces where children can establish their own play niches within the building.
"Diversity has been a keyword for the design, and we have created a variety of rooms, which are supporting diverse types of activities for the children in all seasons," says Dan Stubbergaard, Founder and Creative Director of COBE.
The Frederiksvej Kindergarten offers children the opportunity to establish small individualized play spaces, but at the same time a coherent and clear organization of the institution has been highly prioritized. The two atriums in each end of the building connect the different floors and group rooms. The atriums also function as central gathering points, where informal meetings between children, employees and parents can take place. A continuous simple design has been key to the concept of the building.
Surrounding the main kindergarten, six additional smaller houses located in the playground area are used for storage of strollers, toys, and tools. Within the main kindergarten building, small house shaped structures are used to enclosed spaces such as kitchenettes, cradles, playrooms and baby changing facilities. All in keeping with the main concept of a small village environment.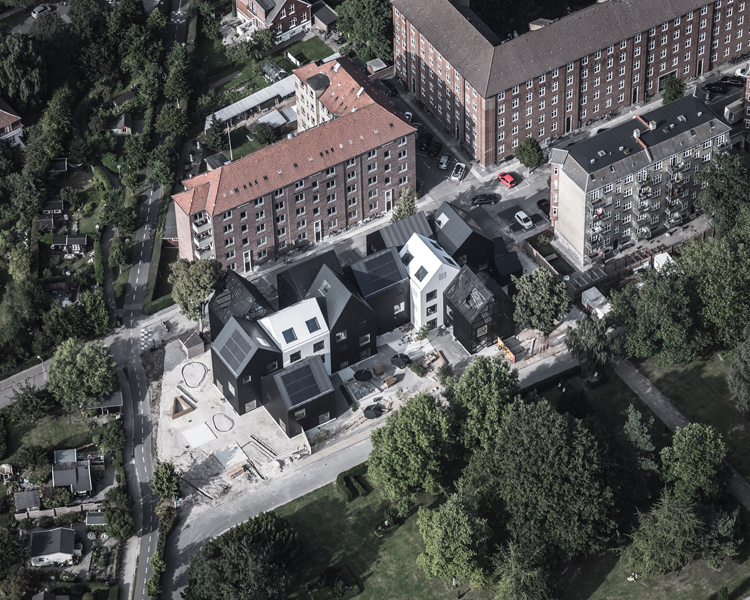 The 11 houses are slightly offset from each other to divide the program of the kindergarten. From the outside the offsets of the façades divide the kindergarten into smaller outdoor areas and play zones while allowing daylight to enter the building. Within the building, various size and types of rooms are created for the occupants as a result of the offset. The kindergarten consist of two to three floors with group rooms that have individual access to the outdoor space on each floor.
Frederiksvej Kindergarten was started in 2011 as a competition won by COBE in collaboration with Preben Skaarup landscape architects, Søren Jensen engineers and Learning Spaces consultants. The kindergarten is officially inaugurated by the city mayor on February 4, 2016 to mark the completion of the project.
all images © Rasmus Hjortshøj