Celebrating coffee's intangible pleasures, Alberto Caiola translates coffee's aromatic vapors into a sculptural ceiling that is the centrepiece for this café in Shanghai. Gently sloping away from the counter, the striking installation becomes at once canopy and stage for baristas to perform their art.
Rich and dark in color, the ceiling's 'fumes' evoke the depth of the drink itself, winding up and beyond the venue's glass façade. Lending a sense of movement to the entire space, the installation creates a partially covered area for attractive outdoor seating in warmer weather.
An eye-catching wall installation comprises an explosion of iconic Moka coffee pots in various sizes. Their presence is intensified by a large mirror spanning the space, amplifying the objects to a kind of love letter to Italy's signature brew.
To create the illusion of a larger space, furniture is finished with a reflective surface. The design approach sees fittings effectively blend in to their surroundings, all the while offering alternative vistas to guests both standing and seated.
Seating areas are partitioned to allow for a diversity of functions. When viewed from outside, a large window frame accommodates customers both inside and out. Meanwhile, an inside communal table is positioned in the middle of the space. Additional bar stool seating lines the right hand side of the café.
A stark combination of textures creates contrast, with sleek new elements positioned against stripped walls exposing the building's shikumen bricks — a traditional, turn-of-the-century housing style, typical of Shanghai. Painted white to best reflect natural light, they complement the space's bi-folding window for a comfortable guest experience.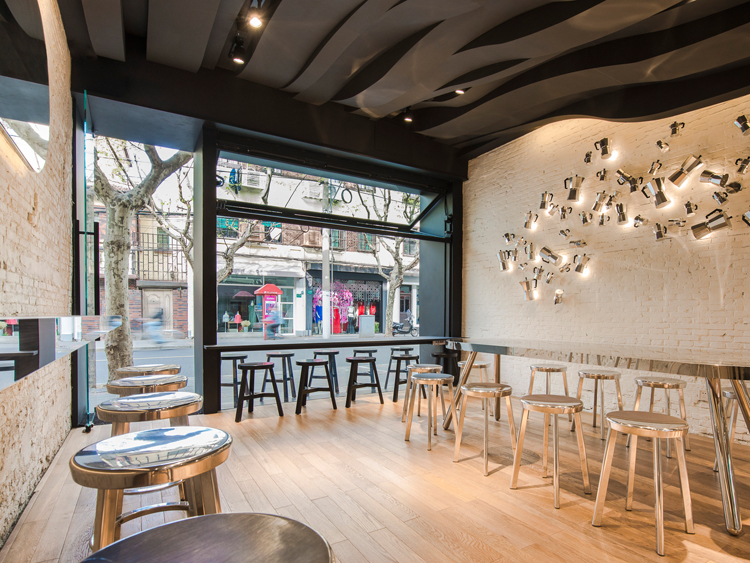 all images © Dirk Weiblen