For lifestyle brand Genshang, Chinese practice Office Coastline has designed their new tea house on Madang road in downtown Shanghai. The client wishes to have a place for the slow life in contrast with the daily fast-paced life. The design team has approached the project by making a gentle sequence, from the entrance shop, long tea bar, dining area to the lounge room at the end.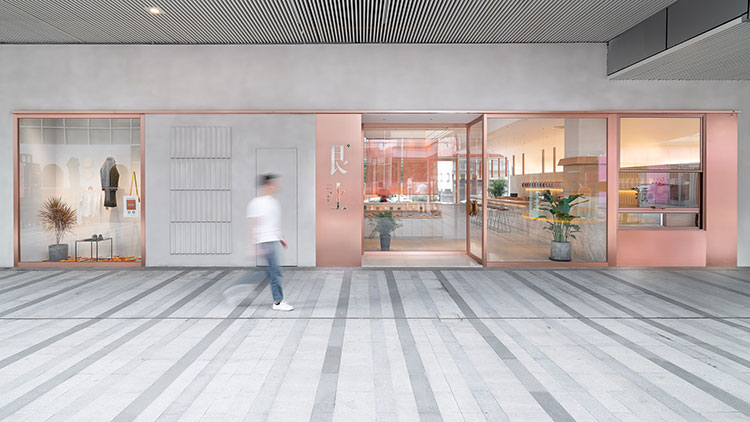 The project is located on the 1st floor of a commercial complex. The main entrance is set up on the inner side of the shopping complex, framed by copper, another interpretation of their brand color. The door is recessed and open to the side, in order to welcome the guest gently into the shop. The lower display, together with translucent fabric softly hides space behind, and shift the passage to the side.
The long timber counter almost takes the full length of the side, serves Chinese tea in the daytime and cocktail at the night. Above the counter, the half-vaulted ceiling with copper pendant lights creates a cozy atmosphere. Behind the counter, Office Coastline used uneven wall relief, which gives different expression according to the natural light.
The main dining space is 4.8 m high with an exposed ceiling. The studio has designed a table and chairs set like a round cake which can be stood for party or display for an event in the center. The lounge room with vaulted ceiling is located on the deepest place from the main entrance. With folding doors, it suits for activities such as meeting, event and private party.