Montréal-based firm APPAREIL architecture has recently refurbished this duplex located in Villeray. Its new and singular appearance distinguishes it from others in the neighborhood and forms a bridge between past and present.
The residence, located in a socially effervescent neighborhood, had everything to please the young owners except a bright living space, adapted to their needs. With its finesse and expertise, the team gave a new lease of life to the duplex's existing structure, now transformed into a single-family dwelling. The entire exterior façade, as well as the interior design, were fully revitalized while respecting their original style.
To enhance their quality of life and with the aim of raising a family in a more appropriate setting, the owners entrusted APPAREIL with the task of creating an open, bright and warm interior environment. They also manifested the desire to integrate green spaces, which are rather rare in the middle of the city. These major requests became the guidelines of the project.
On the exterior, the transformation took place in two stages. To begin with, thorough work was done on the existing structure. To respect the style of the building, whose construction goes back to the 1920s, original materials were simply renewed. The masonry was completely redone, the foundations were restored and the fenestration of the front façade was replaced. In the second stage, special attention was given to updating the premises.
The upper floor, which was added to the building, radiates by its resolutely contemporary appearance and creates a magnificent contrast with the period structure. The huge windows that are now featured on the rear façade offer a greater amount of light inside and a deep view of the charming little lane that runs along the building. Finally, the various roofs of the residence were converted into terraces where the owners can now enjoy a bit of greenery.
Inside, a great transformation was needed. The team first broke through the different levels in order to decompartmentalize the space and thus create a much more convivial relation between spaces. For similar purposes, custom made built-in furniture was used not only to maximize space, but also to provide a more refined finish. In the same line, white paint was applied on the walls. In addition to its clear and pure appearance, it also gives each room  greater light.
Just like the new windows on the rear facade which now increase the sun's entrance. It is for this reason that each of the living areas were imagined in the back of the residence. Finally, just like the windows, the addition of black walnut wood to the ceiling and ash to the floor contributed to warm the atmosphere of the residence. From the inside to the outside, APPAREIL has completely renewed the customers' living spaces by creative solutions that maximize luminosity.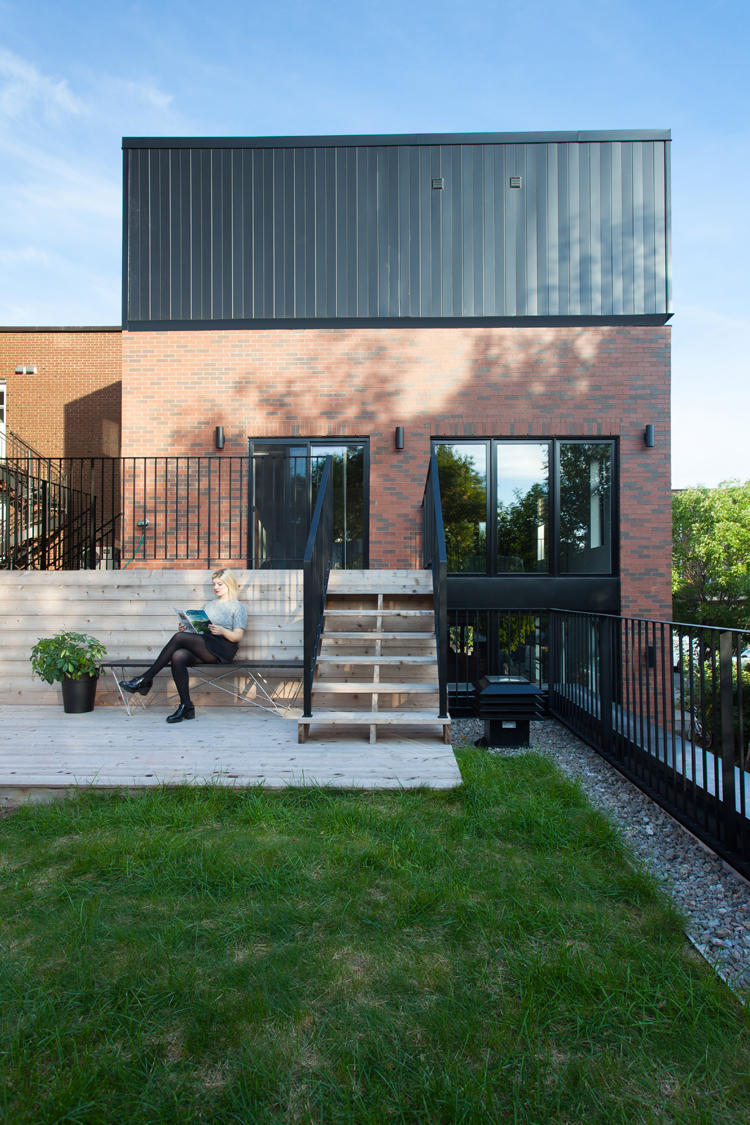 all images © Francis Pelletier