London-based Applied Studio has completed the renovation of a dark and cluttered terraced house in Hackney into a light, spacious family home. The property has been transformed with an elegant, glazed side extension and zinc-clad mansard extension which allow natural light to flood through the house.
Applied Studio was approached in 2017 by a professional couple who had ambitions to create their dream home from their current house – rather than relocating. They wanted to overhaul the tight, poorly lit interior spaces and create a connection with a tranquil garden area.
The project involved stripping out the structure from the rear and adding a glazed side extension providing an open plan kitchen and dining space which flows from the central living area and into the garden, complete with window seat and a vast pivot door.
Chevron granite tiles mirror the timber flooring and split the ground floor along the existing wall line, retaining a sense of the original character of the house.
Externally, a timber outbuilding houses a shower, living space and sauna at the end of a newly landscaped garden. The new structure offers a retreat-style space for the homeowners, extending the living areas to the outside.
An office and entrance hallway at the front of the house are separated from the living area by Crittall doors, providing views right through to the rear garden.
A dramatic frameless skylight sits over the refurbished stairs and provides a double-height space up to the new, zinc-clad mansard extension.
Minimally framed, large-format glazing provides extensive views from the master bedroom (housed within the mansard extension) and a marble clad en-suite bathroom also benefits from a frameless skylight over the shower. Dark joinery with darkened bronze recessed handles provides a dramatic contrast for the kitchen and storage.
The basement area has also been transformed into a functional but sleek gym and completes the provision of well-considered spaces for both work and rest.
"The amount of natural light now in the property completely transforms the spaces – we sometimes forget we are in the middle of East London," said the homeowners said. "Applied Studio has worked meticulously to transform the house, creating contemporary living areas with elegant material palettes, whilst retaining much of the property's original charm. It is an absolute joy to live in."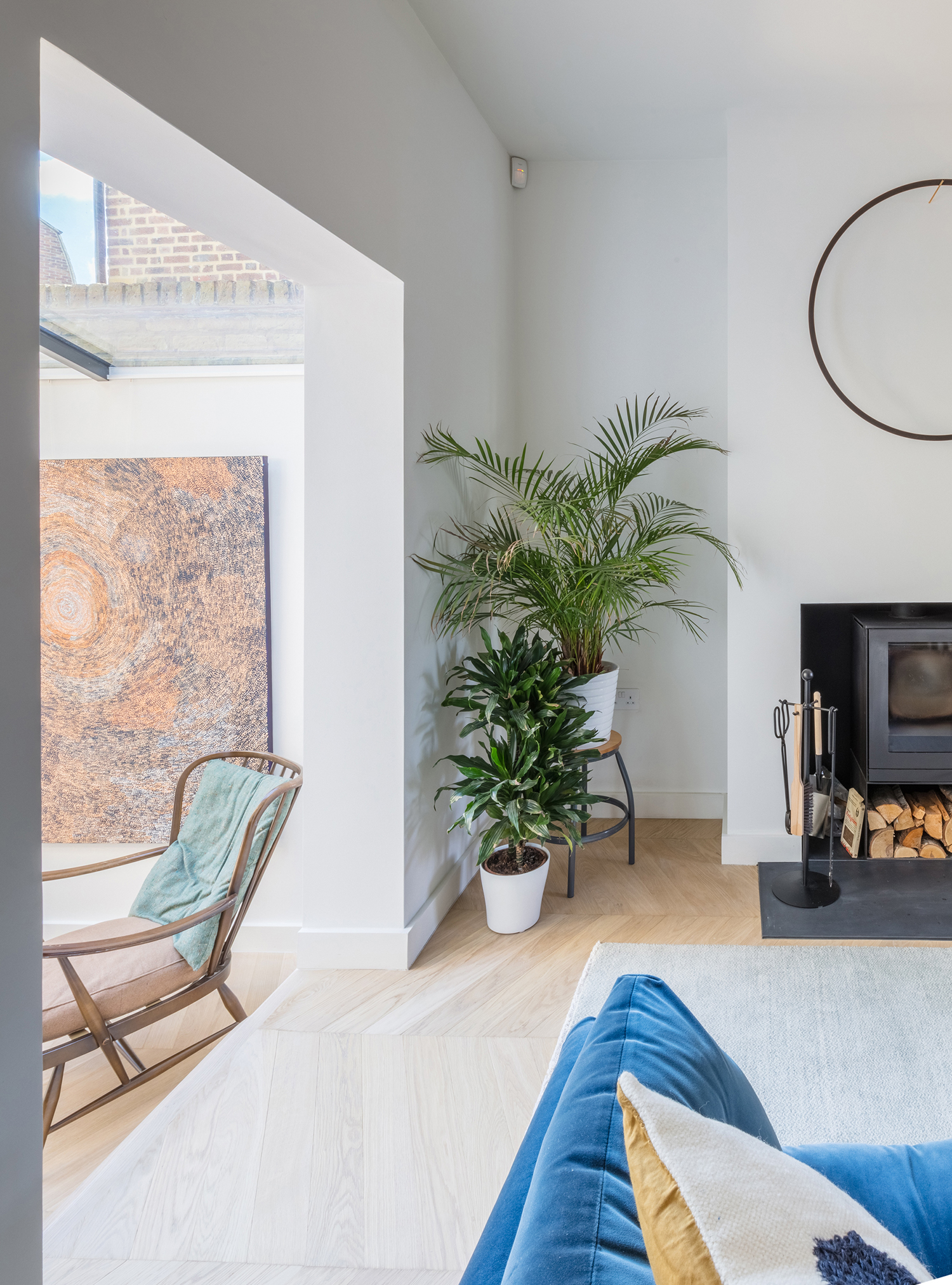 "This project was a pleasure to work on; we were able to be bold with our choice of natural materials, which were crucial to the success of this project," explains Patrick Abrams, Director at Applied Studio. "Careful use of large-format glass meant that we could really open up the space and create an evident relationship between the main house and the outbuilding, which makes for a property where the client can embrace indoor-outdoor living year-round. We have worked hard to create something which will bring the homeowners happiness for many years to come."