After 44 years of racing success with the iconic XR750, Harley-Davidson is entering a new era with the introduction of its new XG750R Flat-Tracker. Exclusively produced for professional racing, the limited edition model—powered by the fuel-injected, liquid-cooled Harley-Davidson Revolution X V-Twin engine— features two large exhaust pipes extending up from behind the rider's knee, a short, hard suspension set, heavy duty tires and a dynamic body build.
"After decades of flat-track racing success behind the Harley-Davidson XR750 flat track motorcycle, we knew it was time to develop the next-generation Harley-Davidson to compete in one of the best spectator racing sports out there today," said Kris Schoonover, Harley-Davidson's racing manager.
The new Harley-Davidson XG750R has made its racing debut at the Springfield Mile in Illinois, USA, yesterday.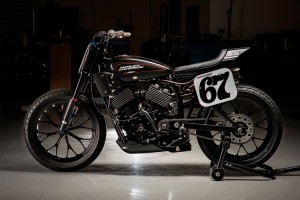 all images © Harley-Davidson