Today, China is leading a revolution in new retail area around the world. The online e-commerce giants represented by Alibaba and Tencent are actively expanding the offline retail sector. On the contrary, the traditional offline retail industry is also seeking for the online model. The new resource-integrated retail approach formed by online and offline integration has become the hottest topic of this era. Heyshop in Shanghai Xintiandi is the offline practice of the new retail in the current online shopping era.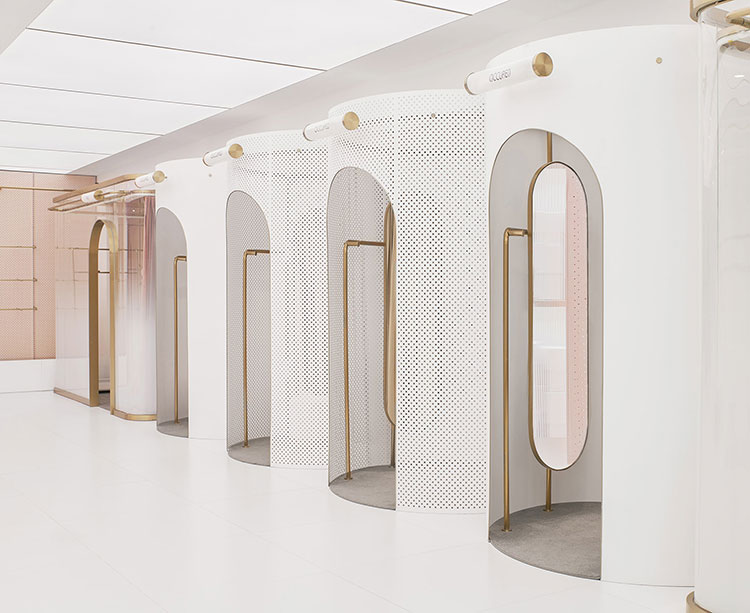 Designed by Chinese practice Daylab Studio, Heyshop is not a traditional retail. It is a new type of collection store, driven by big data, merging online with offline (OMO). Traditional store cares more about the display quantity of the stock keeping unit (SKU). So the fitting room is a necessary but auxiliary program – just to complete the shopping process only. Because of OMO, the display quantity became not as much important as before since it could be shown from online, whereas fitting rooms, the crucial part of the experience, play a much more important role at the moment, cause it cannot be replaced by online service. Under this circumstance, seven fitting rooms, including two extra large ones, come out in this 200 m2 little store, to meet the requirement of the physical shopping experience. The initial idea is to enable the fitting room to be a place where the best friends could gossip together, dress up together, etc.
The fitting rooms align along the store's open side as a row, locating in the middle of the shop, dividing the entire store as front section (home accessory part) and rear section (clothing part). Customers could pass through any one of the unused fitting rooms from one side to another, which means the original circulation space is also fitting room space.
Unlike the traditional retail, flexibility is the most crucial feature in Heyshop. The products displayed are not coming from different brands only. They are also coming from different categories. Based on the big data analysis, no product could guarantee itself be kept in the store all the time. Not only the brands, could the category be replaced in different season. Today, Heyshop may sell cosmetics, while tomorrow, it may sell clothing. Hence, it is the mission for this new type of OMO retail to continuously change the display type and recommend new products to the public.
Moreover, in order to emphasize the concept of OMO, the online shopping elements were extracted and placed in the physical store, reminding and encouraging the customers to make online order when they have offline shopping. That makes the online merge offline a closed loop.