American design firm Home Studios has recently completed the new Bibo Ergo Sum cocktail bar in West Hollywood's recently revamped Robertson Plaza.
Entrepreneur Tait Forman is a first-timer for opening and owning a bar but is no stranger to the cocktail world. With hospitality and Hollywood in his blood, he started experimenting with cocktails when he brought concession cocktails to Arclight theaters, owned by the Forman family, with the help of Proprietors LLC (Walker Inn, The Normandie Club, Honeycut).
Now, Tait, an LA-native himself, opens Bibo with hopes of bringing a locals bar with serious drinks and a welcoming vibe to the neighborhood, as well as help to revitalize it. The name, Bibo Ergo Sum, translates playfully to "I drink, therefore I am," and for the drinks at Bibo, Tait turned to Proprietors LLC once again to consult on the project.
Bibo's aim to ensure that there is something for everyone – from a simple and understandable riff on a Margarita with cinnamon, French curaçao, & dehydrated orange salt, all the way to an avant garde, deconstructed dirty martini served with a sidecar of olive leaf soda. Each section will also include one low-ABV and one no-ABV cocktail.
In addition to Bibo's specialty menu, the bar staff is fully-versed on a wealth of classic cocktails. Four tap beers are also available, with plans for a rare beer cellar and a small selection of natural wines. There are 80 seats in all at Bibo, with 16 at the bar, and no standing room.
The overall concept was inspired by the graphic symmetry of turn of the century Vienna architecture, muted color palettes and pastels of French new wave cinema posters, the playful modern curves of Finnish designer Alvar Aalto, and the innocence of the Mike Nichols film "The Graduate." The result is a dynamic blend of surreal details, unexpected materials and dramatic proportions that deliver a completely unique aesthetic. Everything in the space is custom – from the light fixtures, banquettes, tables, and back bar, as well as many materials.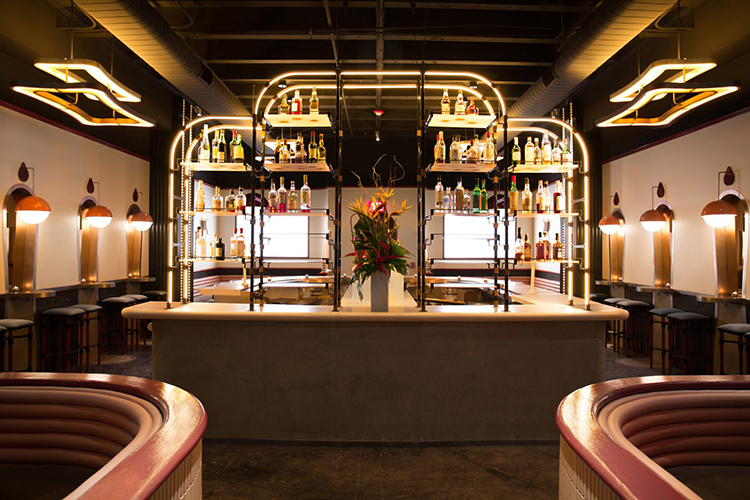 "We want guests to feel transported into a setting that feels both of the future and familiar at the same time," says founder Oliver Haslegrave. "Everything from the rigid symmetry of the space, to the strict color palette, to the tinted lighting and glass, as well as the blacked out ceiling are meant to create an experience as transportive as a trip to the cinema".
all images courtesy of Home Studios