Quartz is the most durable countertop material for kitchens and bathrooms. It's an engineered stone made of rigid materials, making it stronger than granite and marble. It doesn't get chipped, cracked, or scratched easily.
Aside from their durability, quartz countertops can enhance the look of your bathroom. It can also upgrade the overall value of your home with its refined look and improved functionality. If you're planning for a renovation or remodeling, quartz is the top choice for its durability, flexibility, and luxurious design appeal. 
Here's how quartz countertops elevate your bathroom's aesthetics:
1. It Creates A Luxurious Look 
Quartz looks luxurious. Since it's a synthetic stone, manufacturers can customize its color, texture, and finish to match the intricacy of expensive natural stones. With these, quartz became one of the most popular countertop materials.
Quartz countertops Orlando are an excellent choice for giving your bathroom a modern but timeless finish. Additionally, with a plain white glossy quartz countertop, you can make your bathroom look classy and vibrant. Its smooth texture creates harmony and continuity within the space while equally emphasizing the elements around it. 
2. It Is Easy To Maintain 
Designing a classy home is easy with the help of professional interior designers. However, maintaining its look while living in it can be pretty tricky. So, by installing quartz countertops, you can easily preserve and improve the ambiance and aesthetics of your bathroom. This is because quartz countertops have easy and low-cost maintenance. It's non-porous, perfect for moisture and liquid-prone areas like the bathroom. 
Moreover, quartz countertops are stain-resistant. If you love DIY hair color in the comfort of your bathroom, you don't have to worry about the dye ruining the surface. You can easily wipe off any products, and your quartz countertops will remain stain-free.
3. It Allows Unique Cuts 
Quartz is a perfect material for unique contemporary designs. Manufacturers and installers can cut them precisely according to your desired shape, no matter how complicated. This material can withstand detailed customization without risking quality.
Furthermore, one of the popular elements of contemporary homes is curved lines. Quartz is the best option if you want to install a curved bathroom countertop. It's very flexible and almost indestructible. You don't have to worry about scarring, breaking, or chipping due to its unusual cut.
With its flexibility in shapes, quartz can elevate your bathroom's aesthetics. You can also choose intricate details on the edges to make it look more refined. Some options are flat, beveled, ogee, bullnose, and even a rugged, live edge look.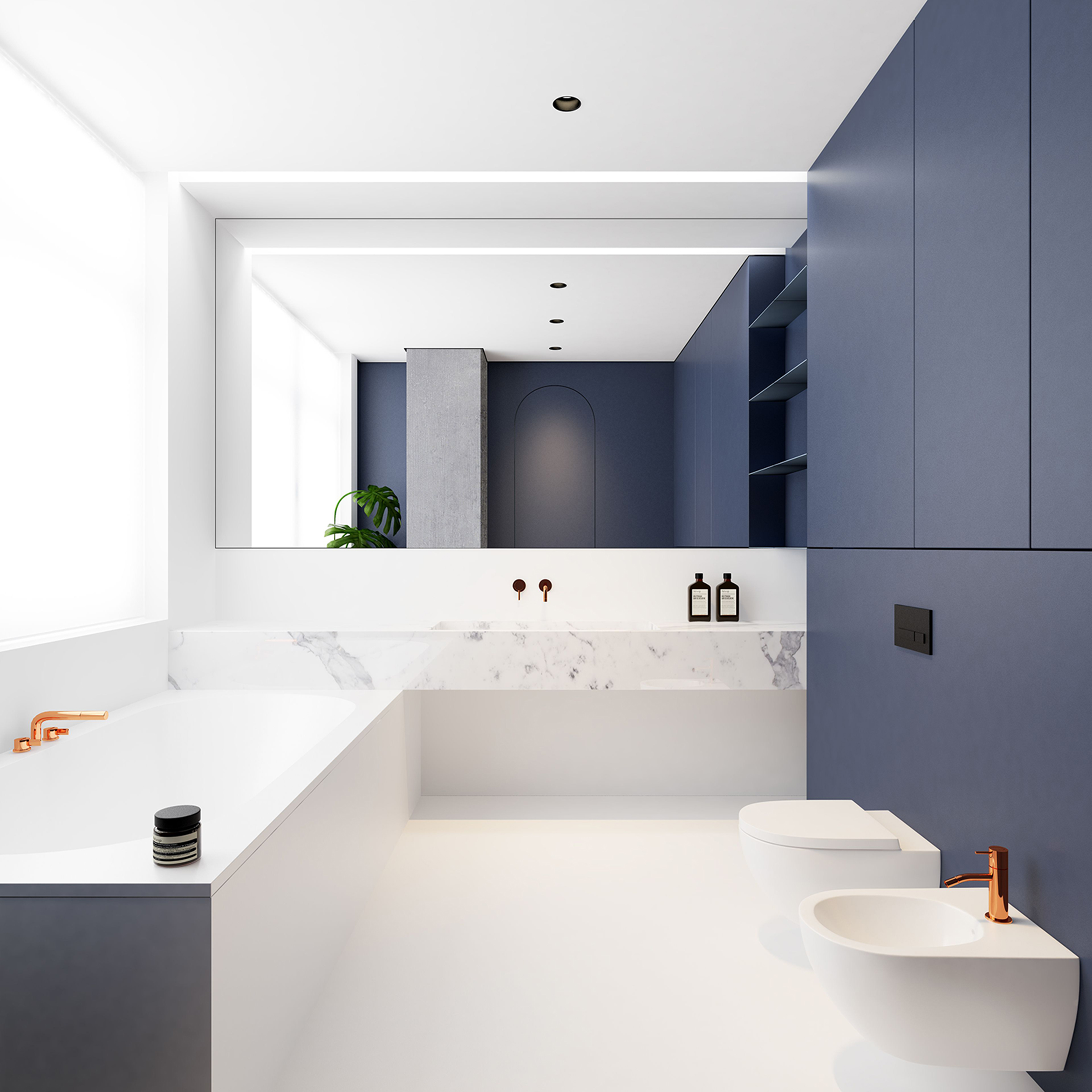 4. It Looks Seamless 
Quartz is the wisest choice if you're looking for a seamless design. If you need to connect two slabs, you don't have to worry about lines and ridges on the joint. It will look exactly like one whole slab of custom-cut quartz.
With its tactile and visual smoothness, you can create a sleek and chic look for your bathroom. Furthermore, a seamless bathroom countertop is also essential to maintain proper hygiene. Since quartz has no tiny ridges, there's no room for dirt or mold buildup. Protecting its dazzling surface would be a breeze.
5. It Offers Various Design Options 
Quartz comes in different designs and colors. Its almost unlimited options in aesthetic aspects make it the most versatile material. It can be the complementing element missing in your bathroom.
The most popular option for bathroom countertops is plain white quartz due to its sleek and light appearance. However, you can find ones in bolder and more vibrant colors like yellow, red, orange, and blue. Some color options for a neutral palette are black, dark gray, light gray, beige, and greige. In terms of design, your imagination is the limit. 
6. It Can Mimic Natural Stones 
Quartz is an excellent alternative if you fancy the look of natural stones but don't want expensive and tedious maintenance. Natural stones like granite, marble, limestone, and onyx are marvelous but a bit demanding in terms of initial costs and restoration. As a solution, manufacturers mimic their look with the help of synthetic materials like resin and pigment mixed with quartz.
White quartz countertops with gray marble patterns are common in bathrooms and kitchens of modern, minimalist, and contemporary homes. Quartz can also transform into a limestone-like material. You may even request a matte or sandblasted finish to mimic an organic look. 
7. It Can Match Any Interior Design Theme 
Quartz can match any interior design theme due to its wide variety of colors and textures. From traditional farmhouse-style homes to contemporary-themed spaces, there's always an option. You can easily find a perfect match with quartz's flexibility and versatility.
For minimalist and Scandinavian home designs, a plain white or marble-patterned quartz countertop is an impeccable choice. However, a terrazzo-like quartz slab is also an excellent option if you need to add some texture to your bathroom. On the other hand, dark-colored slabs are suitable for adding depth and definition to the space.
Quartz countertops with granite-like designs are great options for traditional homes. Its texture can create balance and contrast with black, white, and silver bathroom fixtures. It elevates your bathroom's aesthetics by combining all the elements to create a cohesive look. 
Conclusion 
Quartz countertops are an excellent choice for revamping your bathroom's aesthetics. It provides limitless creative possibilities in designing while assuring longevity in maximizing its function. Plus, it elevates the overall appeal and value of your home.