An open floor plan is a current trend in homes all over the world, and it's here to stay. It's likely to become your favorite because it provides expansive living space and creates an atmosphere that brings the family together.
If you plan to renovate your home and convert it to an open floor plan, one of the factors to consider is color, which some homeowners find difficult.
Most homeowners don't want a boring living space. A lack of color can frequently result in this situation, whereas too much color creates a disorganized space filled with visual clutter. Off white paint is the most popular choice for many homeowners, but there are other options for striking the right balance.
Finding the ideal balance can be challenging if it's your first time handling this renovation task. If your home's open floor plan could benefit from a splash of color, here are a few pointers to help you select suitable paint colors:
1. Select A Color Scheme With A Specific Number Of Colors
If you find it challenging to choose paint colors for your open floor plan, consider selecting specific colors. Using a three to five-color palette throughout the space is one option. The color palette should include a white or light shade, neutral, and supporting colors. It may be best to stick to color families or those with the same intensity to maintain a cohesive look.
Another option is a three-color scheme for your open floor plan. An effective way to add interest and draw attention to the architectural details in the space is with three colors that work seamlessly together. The walls, trims, and ceiling should be a specific color. Choosing the right color combination will ensure your open floor plan will have a well-defined and sophisticated ambiance.
2. Add Tones And Shades  
The tone-on-tone approach is worth considering if you find the flowing backdrop monotonous or if too much color is something you don't prefer for your open floor plan. It's best to utilize different tones or shades of the same interior paint color and steadily transition as you move to the different areas of the open space.
It's an excellent choice if you want to keep the background of an open floor plan consistent while injecting subtle pops of color. You can gradually transition from light to dark tones of the same color from one section of the living area to the next. Consider altering the shade of the color to create a distinct and noticeable change.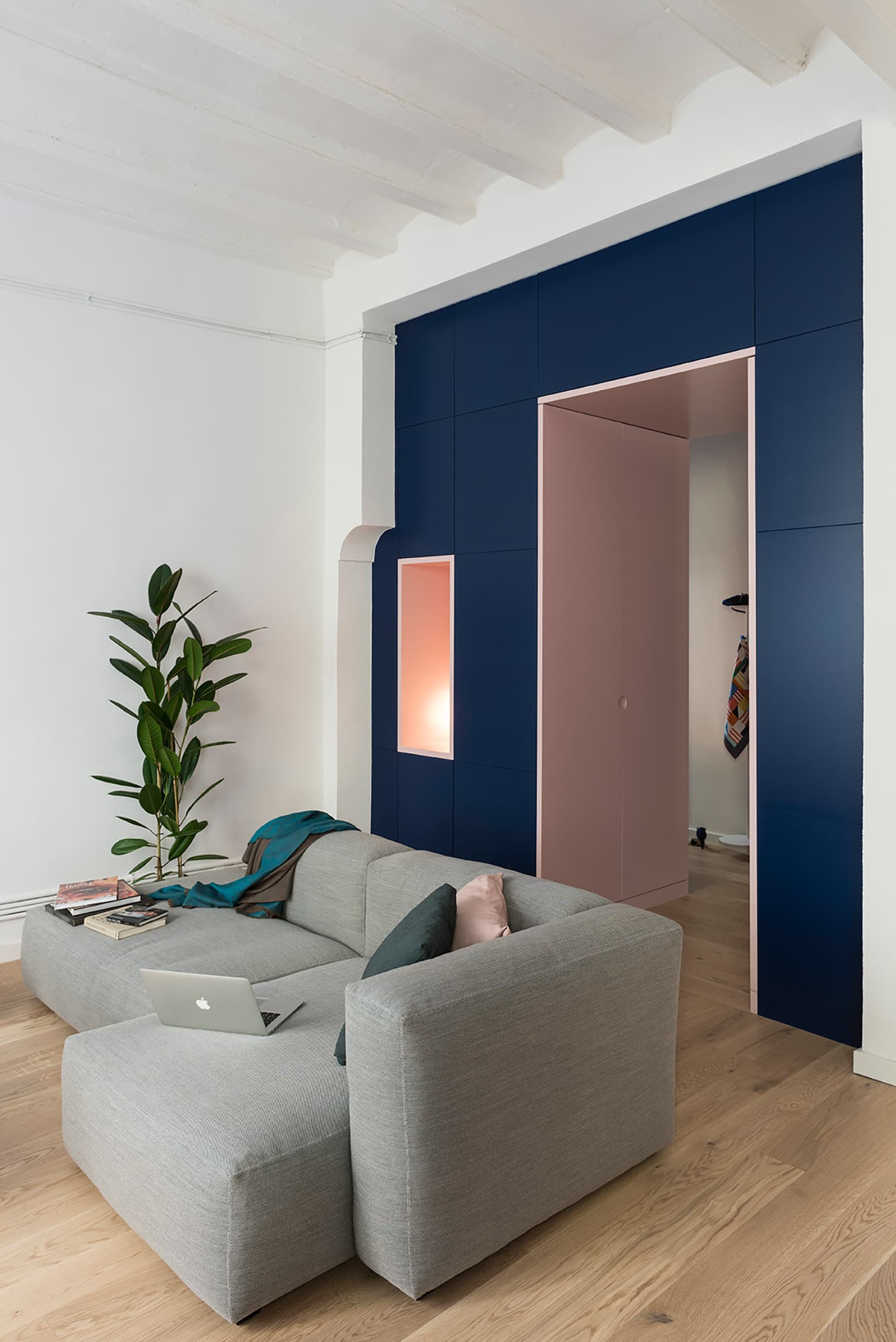 3. Use Color To Define Zones
The contrast will always be important if you use neutral color palettes for your open floor plan. One of your priorities when working with an open space is to make an area feel meaningful with different purposes. For example, use color to distinguish the dining area from the kitchen. Another option is to add contrast to a wall behind a central furniture piece that'll serve as a focal point.
If you go for an accent wall, you can keep the space neutral and inject color in strategic places. Look for interesting angles and corners in the room that can be used as a natural stopping and starting point.
4. Consider Using A Neutral Background
A neutral backdrop is one of the simplest options when selecting a paint color for an open floor plan. When it comes to muted colors, it's not always necessary to go for a monochromatic look.
A white backdrop is always a classic choice, and it works well in the dining room, kitchen, and family room connected to the living space while allowing you to work with contrasting styles simultaneously.
Consider textured walls, wallpaper, and contrasting finishes to add textural variation to the space. You even have the option to combine styles such as modern design and eclectic seamlessly due to the unifying background.
5. Choose The Appropriate Sheen
Choosing the appropriate paint sheen is critical, not just for longevity and ease of maintenance but also for the application. The sheen of paint refers to how much light it reflects or absorbs.
Low-luster paints are ideal for hiding any imperfections on the walls, but they can be difficult to clean if stained or marred by daily wear and tear. If you have children or pets, go for satin or semi-gloss variants since they hide dings and scuffs and offer a surface you can readily clean. High-traffic areas such as semi-gloss or gloss may require a higher sheen for a longer life span.
Final Thoughts
An open floor plan can make your home a spacious living space that brings the family together. If you recently renovated your home with an open floor plan in mind, one of the challenging tasks is choosing the right paint colors. Considering these valuable insights will guide you in finding the ideal paint colors to make your open floor plan into an appealing and functional space for your family.