Takashi Murakami and Hublot have once again joined forces to produce an exquisite new timepiece. This particular watch showcases Murakami's renowned floral design, meticulously crafted from sapphire. While this collaboration is not their first, having previously introduced a vibrant and jewel-adorned MP-15 watch, as well as a ceramic-finished series, the MP-15 Takashi Murakami Tourbillon Sapphire watch takes their partnership to new heights.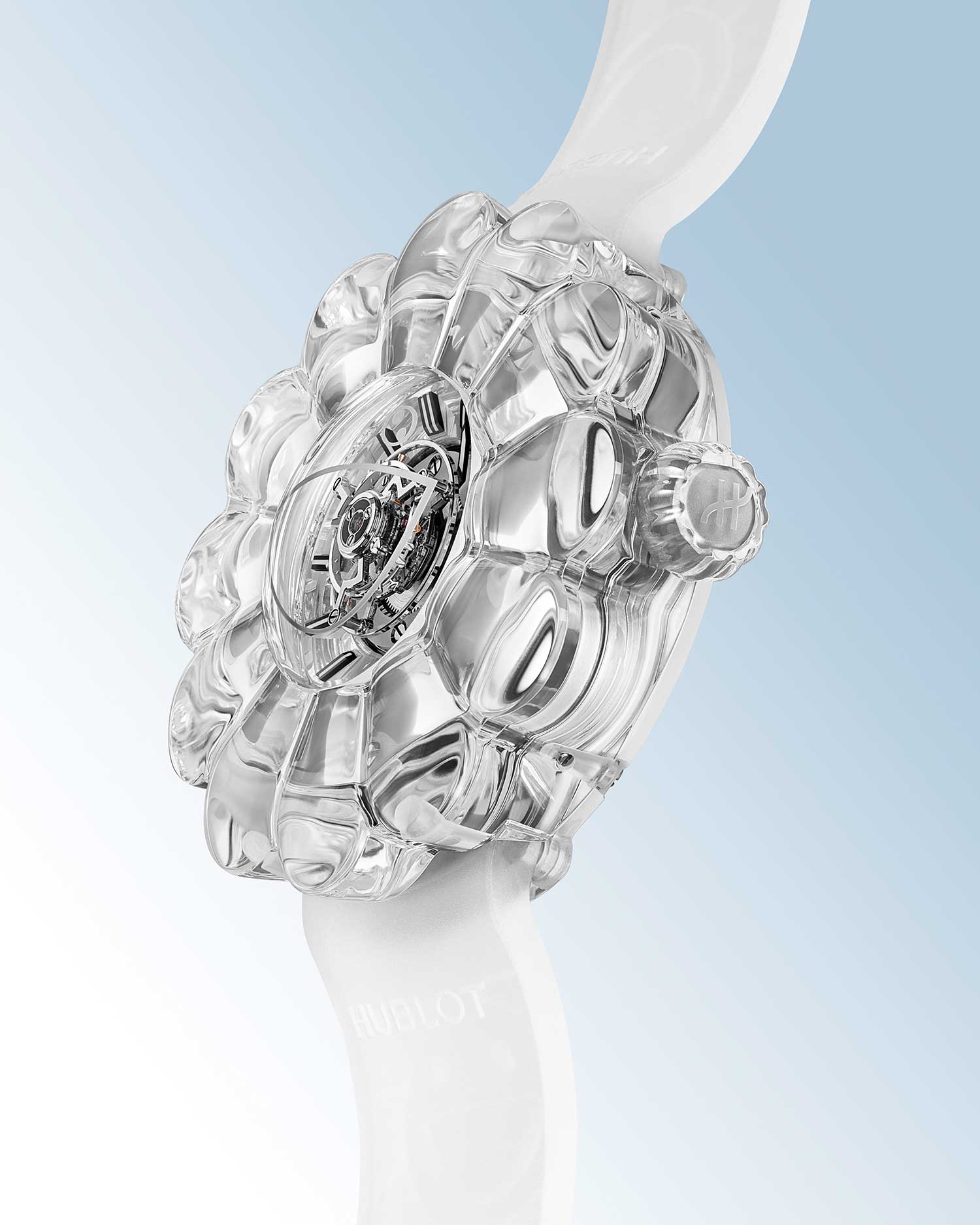 Unlike conventional watches, where the dial, case, and movement are separate entities, this watch seamlessly integrates all three components into one. It is a truly exceptional and unconventional timepiece. The watch is encircled by Murakami's iconic floral motif, featuring 12 petals entirely made of sapphire. The flower exhibits graceful curves and striking, substantial dimensions. Hublot's objective was to achieve absolute transparency, enhancing the luminosity of the MP-15. The case, case-back, crown, flange, and strap are all crafted from sapphire, allowing sunlight to permeate through and illuminate its contours and textures.
This central flying tourbillon features an impressive power reserve of 150 hours, almost a full week, an exceptional technical achievement for this type of complication. To enable it to be fully wound, Hublot has created a special stylus. Supplied with the piece, for which it has been specially designed, and rechargeable via a USB socket, the stylus is placed on the crown, which it winds through 100 revolutions smoothly and easily until both barrels that drive the central tourbillon are fully wound. The position of the latter embodies its function: a visual pleasure, visible at all times. Takashi Murakami has ably underlined its mischievous nature by incorporating two twinkling eyes and a broad smile.
Around the edge, the hours and minutes are indicated by the tips of two hands. These are peripheral, rather than central. Aficionados will appreciate the technical feat: the hands literally pass beneath the tourbillon cage, in a bold affront to the basic principles of traditional watchmaking science. Here, the escapement and the hour and minute hands vie for position in a single central space. To accommodate them, the cannon pinion and the hour wheel had to be pivoted around the tourbillon support by creating a co-axial construction.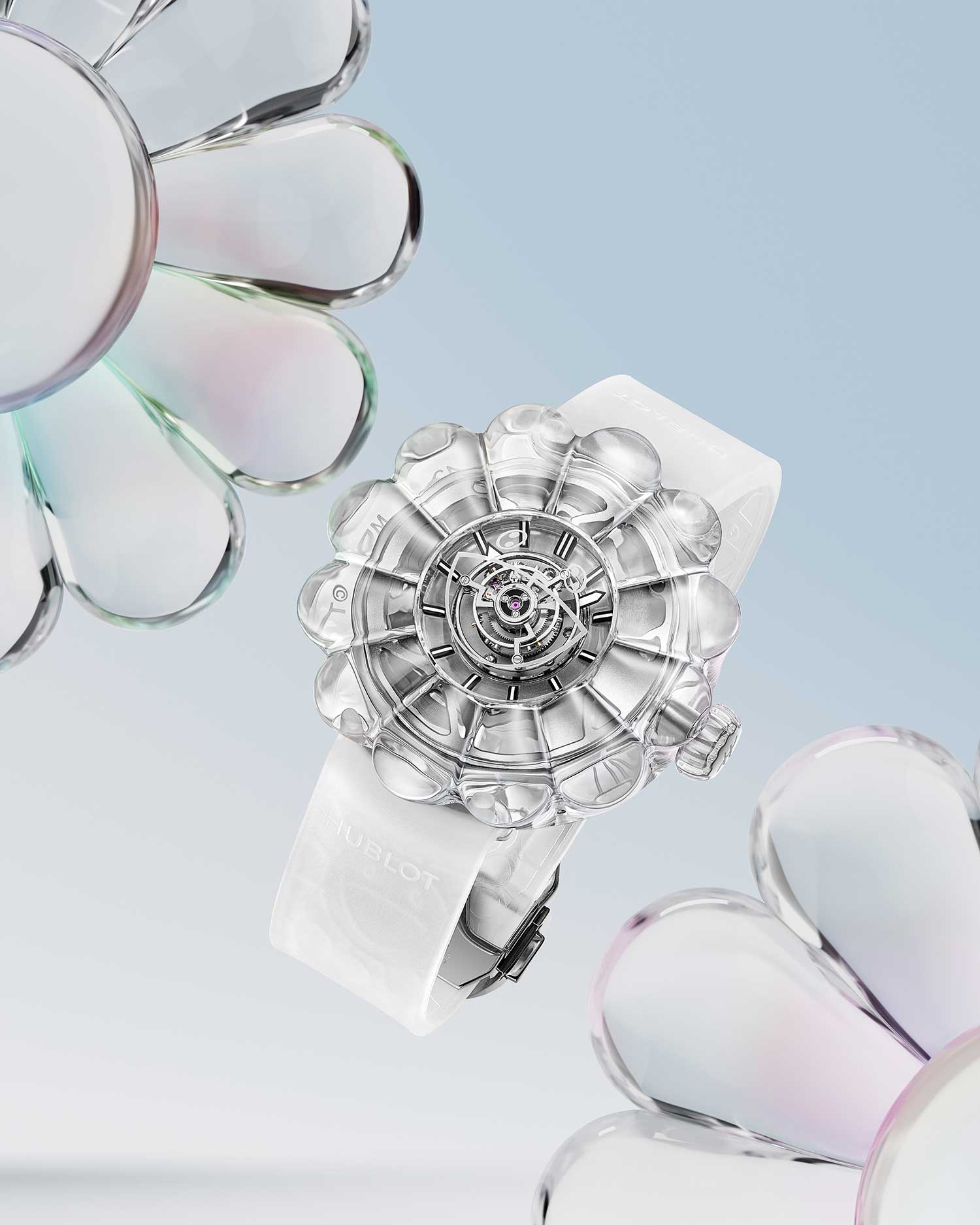 Hublot has also designed its tourbillon without an upper bridge. All of its components are skeletonized. This makes it easy to appreciate just how much work has gone into developing the MP-15, in which some of the gears and all of the tourbillon components – which appear to float in space – are visible.
The deeply innovative MP-15 nevertheless features the standard markers that enable it to be worn and read naturally and easily. Twelve white indices appear on the flange, while black-plated hands with white SuperLuminova guarantee perfect legibility both day and night. The model is traditionally wound and set using a crown at 3 o'clock. Moreover, the modest 42 mm diameter of this piece makes it supremely easy to wear, not least thanks to its integrated rubber strap which offers optimal comfort.