Batay-Csorba Architects presents the Humber Residence, an innovative infill project situated in the esteemed Baby Point neighborhood of Toronto. Positioned adjacent to the meandering Humber River, numerous residences within the Baby Point vicinity are privileged to embrace captivating vistas of the river valley. The acquisition of such a picturesque panorama, coupled with the utilization of the compact 65'x20' pie-shaped corner lot, served as concurrent catalysts in shaping the spatial arrangement and hierarchical structure of this remarkable architectural endeavor.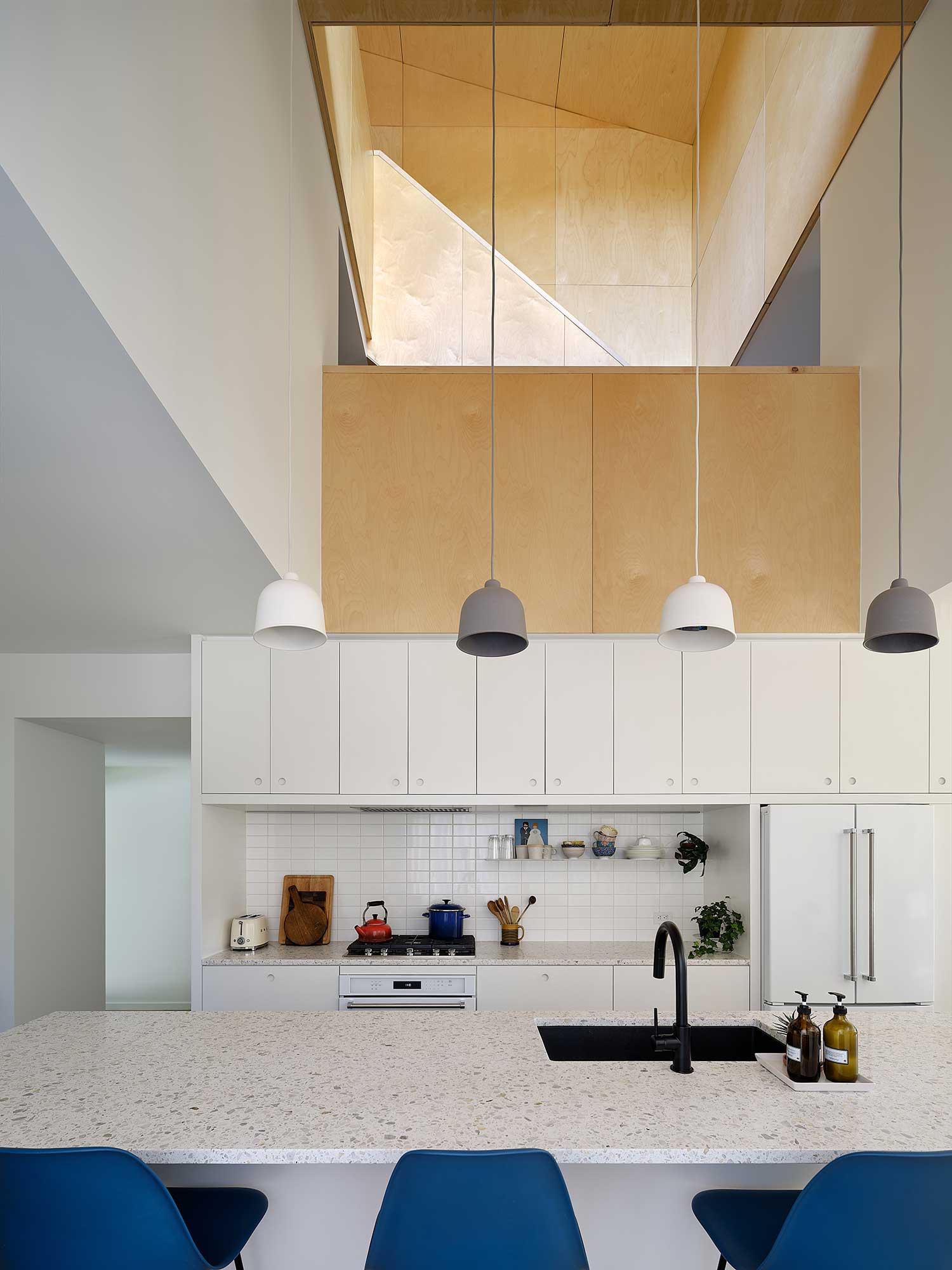 In contrast to the customary cramped Toronto lots, the corner location of this site provided ample scope to infuse natural light into the diverse living areas. Moreover, the extended side of the site, which faced the far-off Humber River, presented an opportunity to create a dynamic space in stages. This enabled the house to not only welcome natural light but also ascend to a vantage point, affording a panoramic view of the river and adjacent buildings.
Here, rather than using punctual light wells to bring in light, as is customary in narrow lots, the three-storey circulation is isolated and left open, stretching through a grand three-storey atrium space to arrive at a sheltered outdoor balcony carved out beneath the sloping roof. A transition of materials demarcates the significance of this space within the home, while highlighting the visual connectivity between it and the other major public spaces.
Measuring 195m² (2,000 sq.ft.), the Ravine house is a modest three-bedroom home by today's standards. With a compact building footprint, each room is resolutely designed to be well-proportioned and comfortable, but not excessive.
Corridors and stairwells are minimized, there are no walk-in closets, pantries, or unused bonus rooms, bedrooms are compact with space-saving built in furniture and wardrobes, laundry is built in off the circulation hall, and every square inch of space is thoughtfully designed and utilized to respond to the site's compact circumstances. And yet, there are beautifully considered architectural details that speak of quality, attention, and care. A monumental and voluminous sense of space is created not with vast room sizes or uninhabited rooms, but by exploring verticality as its central organizing principle, where spaces are interlocked and combined to generate multi-layered programmed spaces akin to a stacked tree house.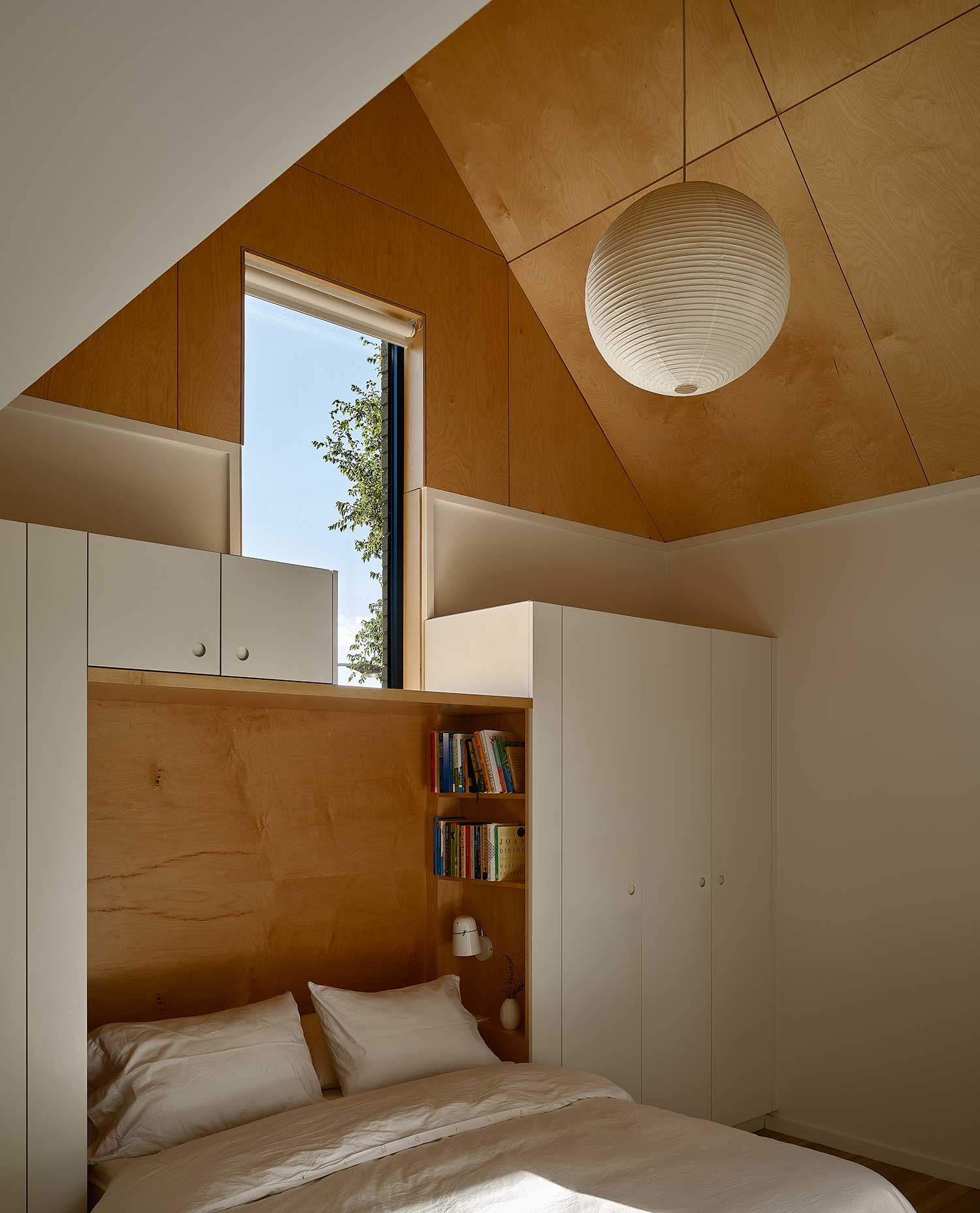 Tucked into the roof peak, above the children's bedrooms, are hidden reading lofts accessed by custom access ladders.
Overlooking the primary bedroom is a small office and music studio. The home is focused around a dramatic central three-story wood clad lightwell, functioning as both a light monitor, a ventilation chimney that cools the home, and vertical circulation. At the top, large south facing doors open onto a covered roof deck with panoramic views of the Humber River, and a Japanese soaking tub for taking it all in. Southern light is collected within the wooden liner, illuminating the interior in a warm and calming amber glow.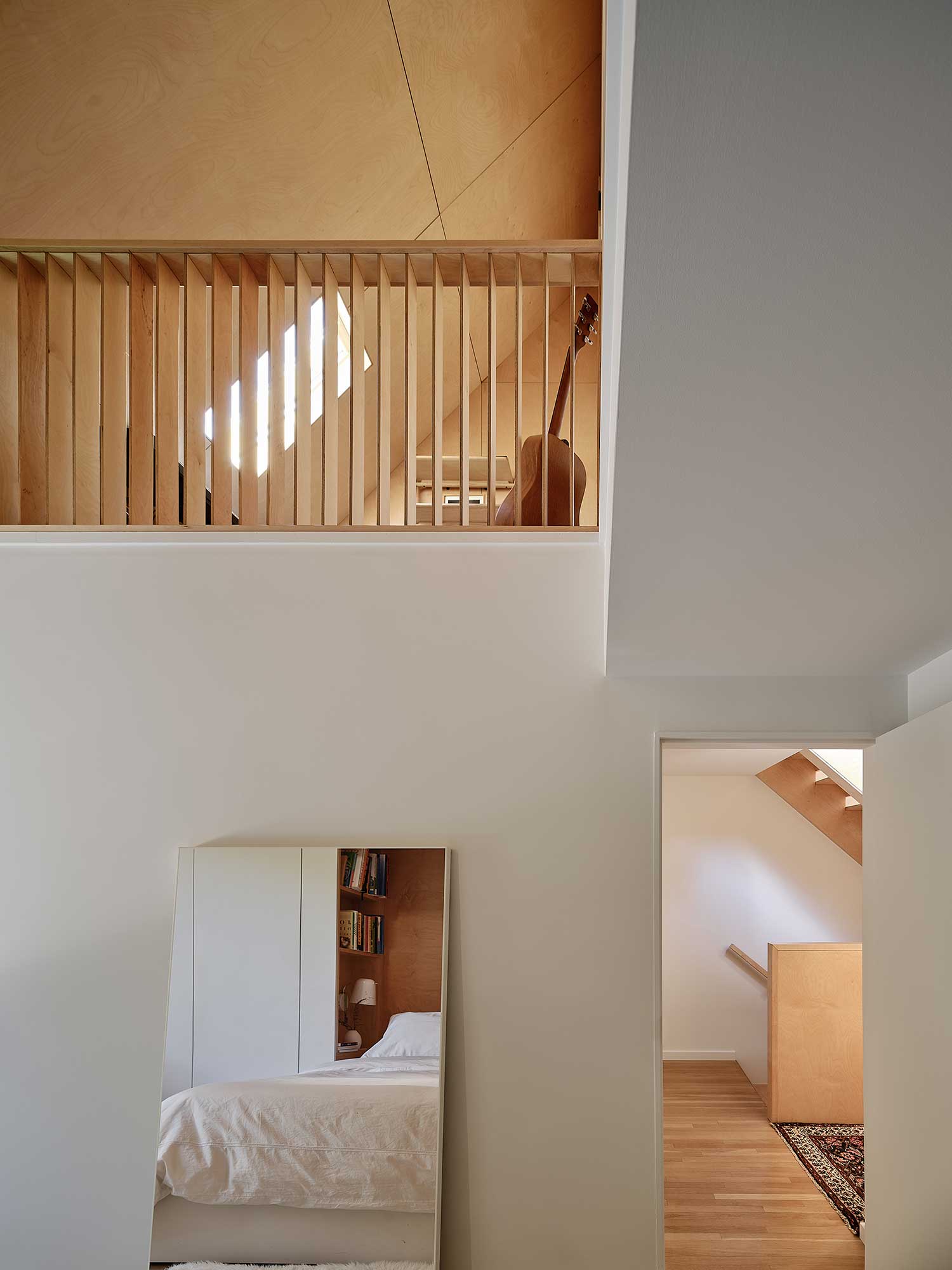 The exterior speaks to the context, clad in old historical buff yellow brick in varying banded coursing patterns across the facades and a steep pitched roof. The front entry and third floor deck are carved from brick with contrasting black sintered stone panels. The interior is a casual and affordable palette of natural materials for an anti-museum aesthetic, with recycled strip plank wood flooring, Baltic birch paneling, terrazzo, and concrete.