At this year's International Consumer Electronics Show (CES), Hyundai has unveiled its new fuel cell vehicle NEXO. The new Hyundai Nexo picks up the space left by the Tucson FCEV, Hyundai's first attempt at a mass-produced hydrogen-powered vehicle that was available for customers in some parts of North America, Europe and Asia to lease.
While the Nexo has similar proportions to the current Tucson compact SUV, it sits on its own platform that Hyundai says allows for the powertrain and fuel tanks to be better packaged, as well as a reduction in weight. This enables more passenger space, better aerodynamics and improved acceleration and efficiency.
NEXO is Hyundai's second-generation of commercialized fuel cell vehicle that will be available in select markets around the world starting in early 2018. Improving upon the acclaimed ix35 FCEV, the NEXO has an estimated driving range of 500 miles – 134 miles more than its predecessor. Acceleration and power have increased to improve the overall performance.
The Nexo will introduce some of the carmaker's new technology, too. Lane Following Assist keeps the Nexo in the center of its lane in the city and on the highway, and recognizes road edges when lane markings aren't clear. Blind-spot View Monitor displays an image of either side of the vehicle when the driver plans to change lanes. The Nexo parks itself autonomously, and returns, with Remote Smart Parking Assistant.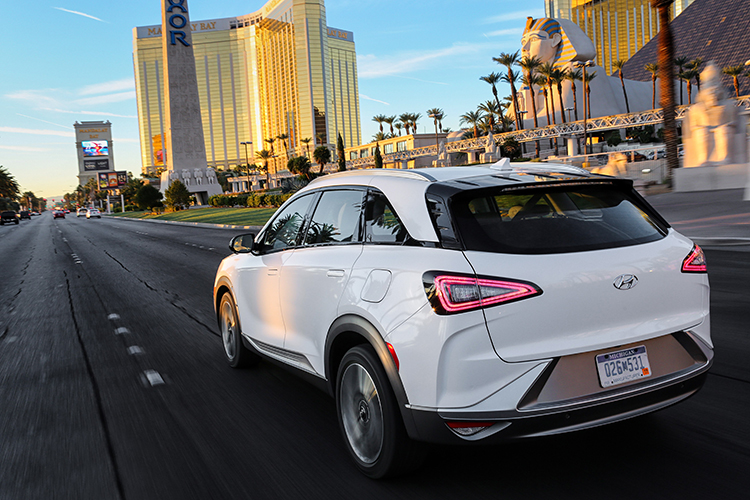 According to the company, the battery system of the Nexo is rated at a total of 135 kilowatts, while the bigger electric motor allowed by the new system puts out 120 kW and 394 NM of torque, up from 100 and 221, respectively. Moreover, the result is 25 percent better peak acceleration and a 0 – 62 mph time for the Nexo of 9.5 seconds, besting the Tucson's 12.5-seconds.


all images and video courtesy of Hyundai