Step inside a frozen jungle of Monstera-plants, sleep safe and sound with a gigantic mountain gorilla by your side – or drift away into the dreamland inside a cloud. Those are some of the creations waiting for this winter's guests at Icehotel.
Opening on December 15, 2017, on the riverbank in Jukkasjärvi, Sweden, the 28th edition of the hotel comprises 35 uniquely designed art-and-deluxe suites, an ice bar, ice chapel and ice gallery.
36 artists from 17 different countries have created 15 totally unique art suites, a magnificent main hall, and a special ice ceremony hall. Everything, including the artwork, can only be experienced at Icehotel during the winter in Jukkasjärvi. When the winter season is over, it all melts down and return to Torne River as part of a perfect cycle. The permanent part of Icehotel will remain, with IceBar by Icehotel and 20 suites of ice and snow; three of which are completely new art suites.
Amongst the seasonal suites, the guests can climb down in an underground mine with elements of crystal clear ice, created by the British brothers Hugh & Howard Miller. The gardener's daughter and jewelry designer Nina Kauppi, raised in a greenhouse, has together with her partner Johan Kauppi created a formidable jungle of Monstera-plants. And Alem Teklu from Ethiopia has together with Anne Karin Krogevoll from Norway made a suite inspired by the boat refugees' journey across the Mediterranean Sea, with the name "Daily Travellers".
Accompanying, the new year-round suites is the deluxe suite "34 meters" where artists Dave Ruane and Luca Roncoroni have carved a labyrinth of a 34-meter ice wall. The labyrinth leads to the heart of the suite – the bed. Lena Kriström and Nina Hedman have in the deluxe suite "The invisible invincible" created an army of marching women, 3 meters tall, invincible and anything but invisible. And German artist Franziska Agrawal has made the art suite "Danger: Thin Ice" where guests enter a bridge and walk across the thin ice to get to the bed.
Icehotel #28 first began to take shape in March of last year, when thousands of huge ice blocks were harvested from torne river. 500 tons of crystal clear natural ice has also been used to create the art, ice glasses and ice bars this year. 1,000 hand-polished ice crystals were used to create the chandeliers that hang in the main hall, and surfaces are decorated with 200 hand-sculpted flowers of ice and snow.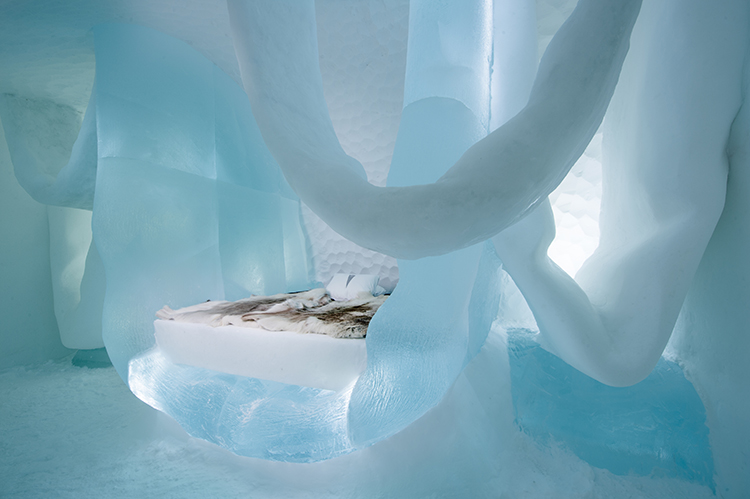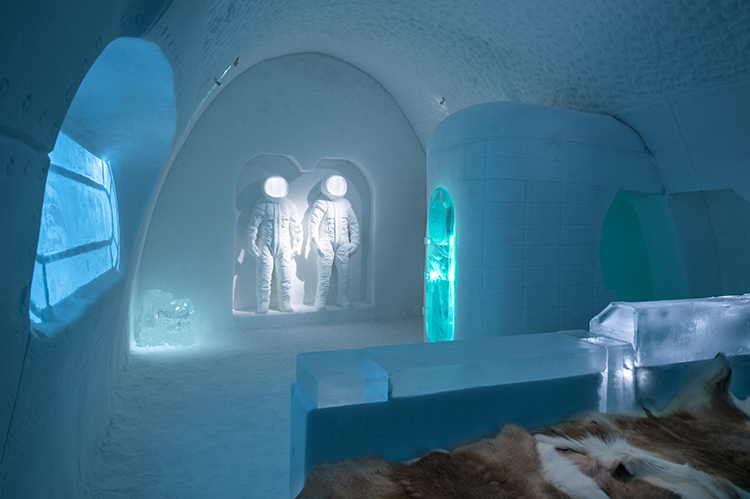 all images by Asaf Kliger © Icehotel