Munich architecture studio IFUB has recently refurbished a 1930s apartment within an Art Deco Villa in Vienna, Austria. The studio was commissioned to overhaul the space of one of the three separated apartments of the mansion, preserving its character where possible.
"The flat was found in good but time-worn condition when we got the commission for the conversion," said architect Bernhard Kurz. "Besides the details found in the flat itself, childhood memories and a strong personal connection of the client to the place had to be considered in the design. Interventions were therefore done very cautiosly and the floor plan was only minimally changed."
"Especially exciting in the design process was to find a way to deal with the original details and furniture"said Kurz. Built-in and freestanding cabinets were integrated wherever possible and exisiting details were refurbished or newly interpreted where a preservation was not possible.
Existing parquet flooring was uncovered, cleaned and waxed. Old windows were kept in situ, while original wall tiles were retained and reinstalled in different locations. Only the building utilities had to be replaced completely to make place for newer and more effective technology.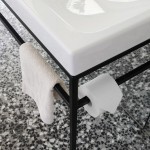 all images © Sorin Morar