French artist Miguel Chevalier has unveiled an exclusive multi sensory installation, titled 'IN/OUT – Artificial Paradises', for the park in Domaine de Chaumont-sur-Loire and is accompanied by Jacopo Baboni Schilingi original and generative music.
A half elliptical architecture made out of wood covered by holographic films sheens under the sun like a giant 12m/39ft of diameter beetle. According to the light the architecture embraces all the colors of the light spectrum and attracts visitors.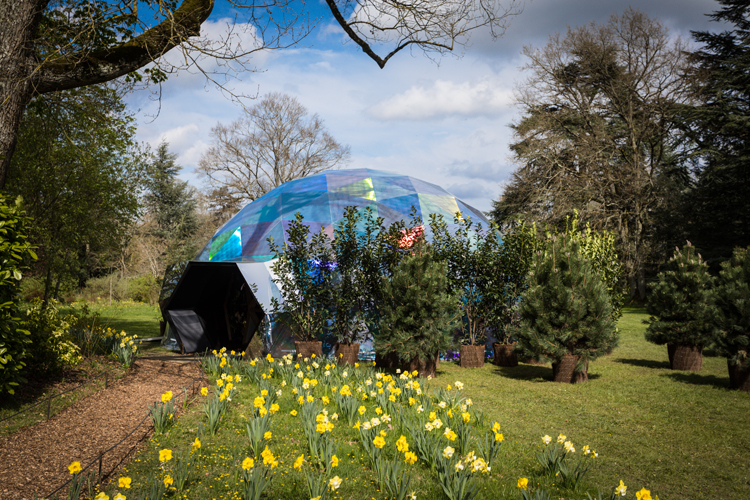 The public is welcomed into the geodesic dome where he discovers in a second 8m/26.24ft of diameter dome a digital garden projected at 360°. The public leaves reality and enjoys this unique immersion experience where all the senses are awakened. The virtual garden explores in a poetic way the question about the link between nature and artifice. According to an approach initiated at the end of 1990s this artwork is based on the observation of the kingdom of plants and its imaginary transposition into the digital universe.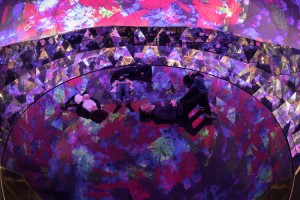 Plants and flowers are inspired by arborescence, mix different tree, foliage, and flower species reminding undergrowth vegetation. This nature sometimes with realist forms sometimes with abstract forms generates itself indefinitely. Plants arise randomly, grow before disappearing before the public's eyes. The garden renews itself and permanently transforms itself, reinforced by Jacopo Baboni Schilingi's music.
Being immersed in the centre of a half elliptical architecture where this digital world redesigns our vision of distance and proximity, opens on infinity. Plants swirl and intertwine like a mysterious vegetal ballet. The lightweight dance draws the outlines of the garden, and like a microcosm, seems to resume the evanescence of beauty and life.
all images courtesy of Miguel Chevalier | video courtesy of Claude Mossessian