Reaching a total height of 35 meters, the Italy Pavilion for Expo Milano 2015 by Nemesi & Partners is the only structure that will remain on site after the six month event. The building consists of the permanent six-storey 'Palazzo Italia' and an adjacent series of temporary structure. Palazzo Italia hosts institutional spaces in addition to the excellences of "Made in Italy", while the temporary structures are representative of the Italian territory, in particular of the regions, and include a pavilion for the European Union placed in front of Palazzo Italia.
Palazzo Italia is considered an architectural and constructive challenge for the complexity and innovation in design, materials and technologies used. The building is designed in a sustainable way thanks to the contribution of photovoltaic glass in the roof and the photocatalytic properties of the new concrete for the branched facade.
Because of its architecture and its location, Palazzo Italia is a Landmark within the Expo site: located to the north, it is the scenic backdrop for Cardo avenue which runs right across the site.
For Nemesi, the spark for Palazzo Italia was a concept of cohesion in which the force of attraction generates a rediscovered sense of community and belonging. The internal piazza represents the community's energy. This space – the symbolic heart of the complex – is the starting point for the exhibition route, in the midst of the four volumes that make up Palazzo Italia.
Palazzo Italia draws on the concept of an "urban forest" with the branched outer envelope designed by Nemesi. For the design of this "skin" Nemesi has created a unique and original geometric texture that evokes the intertwining random branches. The full external façade of Palazzo Italia has been clad in over 700 i.active BIODYNAMIC panels realized by Styl-Comp with Italcementi's patented TX Active technology. When this material comes into contact with light, it can "capture" pollution in the air, transforming it into inert salts and reducing smog levels.
The roof designed by Nemesi for Palazzo Italia is an innovative "sail" realized by Stahlbau Pichler. It's an interpretation of a forest canopy, with photovoltaic glass and flat and curved geometric shapes (often squares). Together with the building's envelope of branches, is a manifest expression of innovation in design and technology. The roof reaches its architectural height above the inner piazza, where a massive glazed conical skylight "hangs" over the square and the central steps, radiating natural light.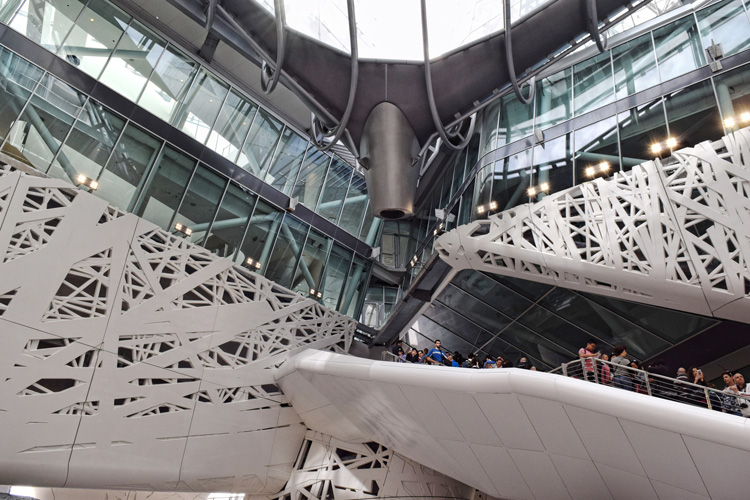 all images courtesy of Nemesi & Partners