American architect J Byron-H has teamed up with branding studio Weekday Studio to create the interior design concept for Color Camp, a new nail bar in Los Angeles, California. Located on Beverly Boulevard in the Fairfax District, this 675 square-foot space is the first of its kind in LA.
With the design, J Byron-H wanted to "evoke a sense of playful discovery and avoid the predictable, cluttered environment often associated with contemporary nail salons". Instead, a bright white space is enlivened with bold shapes. Circles, semi-circles, concave and convex shapes play across bolsters, tables, shelving, doorways, and branding. A gradient mural wall and custom bright blue furnishings bring pop accents of color. Industrial materials like concrete and steel are cushioned by a vibrant gradient of pinks, oranges, and blues, a contrast found throughout LA whenever the roughness of the city's structures finds relief against its brilliant skies.
One of the challenges with this project was to make an extremely narrow existing interior space feel open and inviting without losing the functionality and efficiency of a nail salon. The primary organizational element of the space is the manicure bar: a long, slender, counter height table where guests and artists can choose to sit or stand. Above the bar is the hanging shelf, a multi purpose utility structure which acts as storage for tools and supplies as well as the provider of lights and audio. The top of the structure is accented with a lush array of tropical plants. Across the aisle are a series 1/4″-thick blackened steel 2-top tables which appear to fold out like paper and hover above the ground. The bar stools and chairs were customized for the space in collaboration with Los Angeles Furniture Designer, Chris Earl.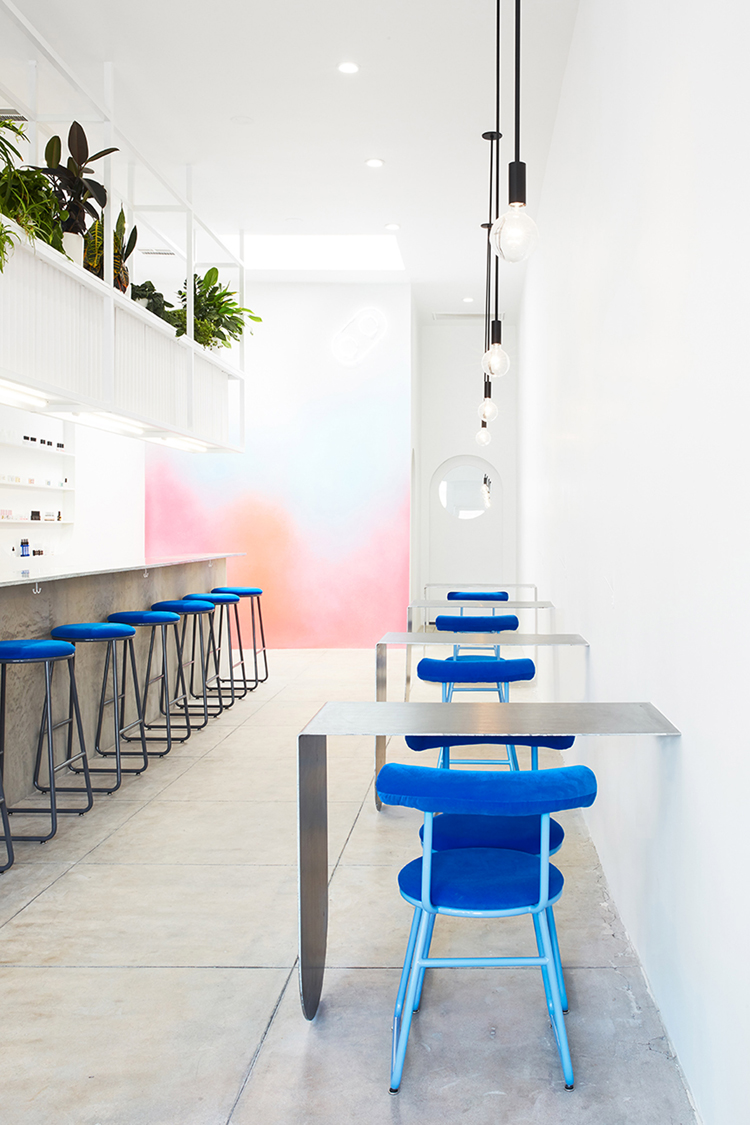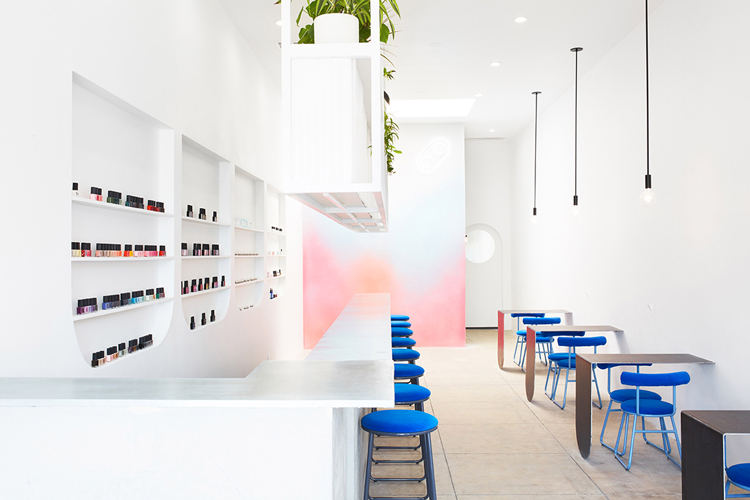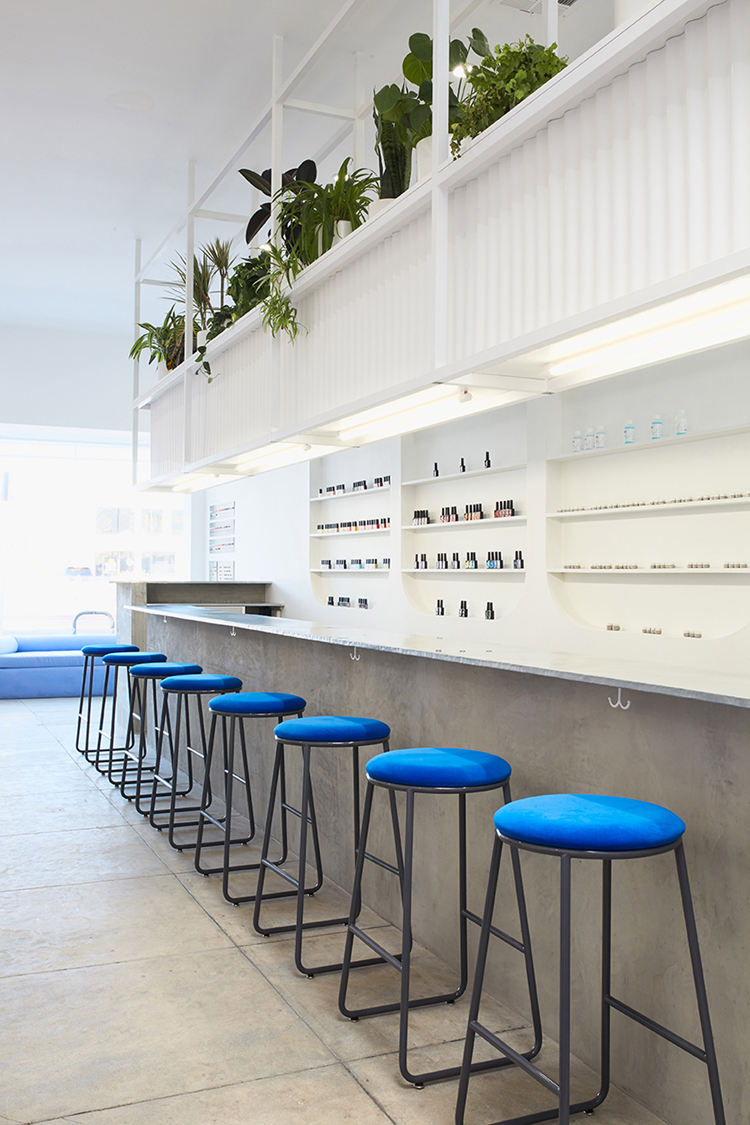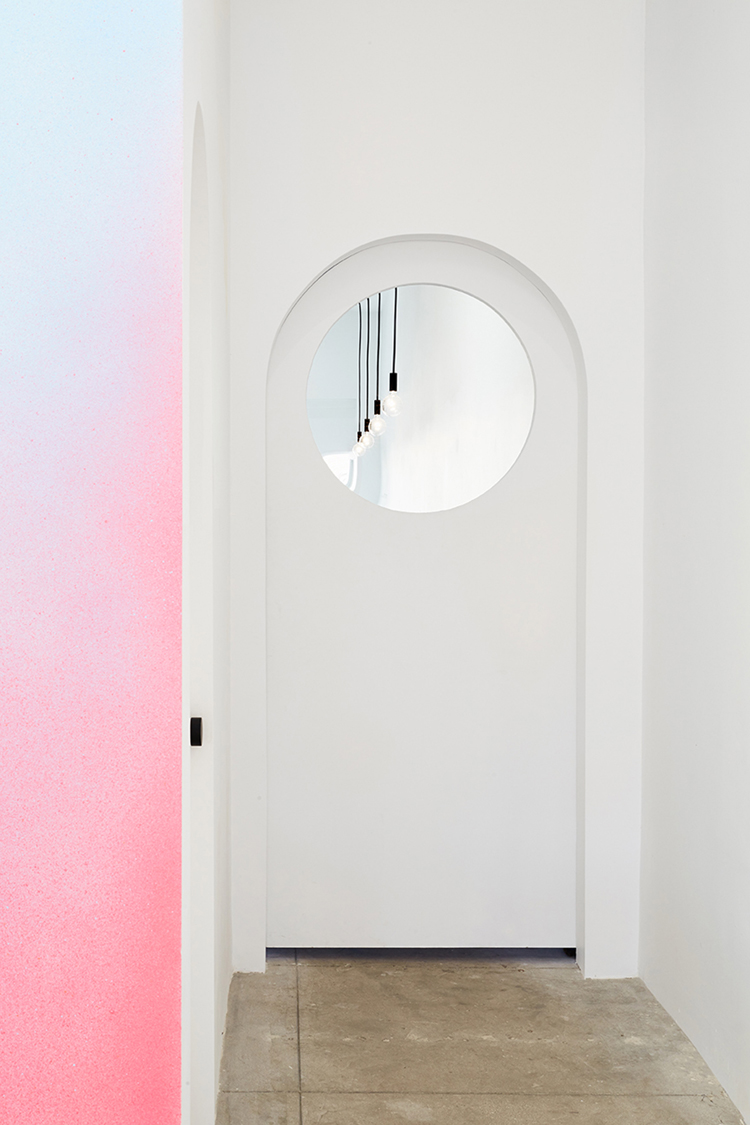 all images © Jennifer Chong