An exhibition of cork furniture by Jasper Morrison has opened at the Kasmin Gallery in New York's Chelsea, marks designer's first solo gallery showing on US soil. The exhibition puts on view Morrison's first complete series of furniture realized in cork. As limited editions, these pieces mark a departure from the designer's usual methods of industrial production and initiate a new collaborative partnership that speaks to Kasmin's continued engagement with presenting boundary-pushing work at the intersection of art and design. A domestic exhibition design that brings together examples of Morrison's chaise longue, a fireplace, chairs, stools, and bookshelves.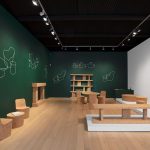 Morrison's interest in cork stems from its remarkable functionality as well as its unique atmospheric qualities, which he recognizes as a key design component of an object's long-term success. Developed by the cork oak tree as a protective covering, this particular iteration of the material is reconstituted from unselected wine bottle corks, some still visible in their original shape.
"The material I've used for the pieces in this exhibition are made from the same material I used back then, so it's really formed cork block material, made from material left over from the wine bottle stopper production process," says Morrison. "You can see pieces of wine cork when it's machined. It's a great material for both its visual and tactile qualities, but above all, I love what it does for the atmosphere of interiors."
"We sourced a lot of different cork block material and most of it was made with a finer granular composition, but this one stood out for its more characteristic appearance," Morrison adds. "You might think waste material from making wine corks would be cheaper than the granular stuff, but it's a lot more expensive."
His designs have long been the domestic choice of creative professionals, whilst simultaneously populating public art spaces and institutional settings. In 2014, he designed the furniture for the extension to Tate Modern, more than ten years after working on the opening of the museum with the architects Herzog & de Meuron, and in 2009, he was invited by the Musée des Arts Décoratifs de Bordeaux to create an interventional installation of his contemporary designs interwoven within the historical collections.
An area of the gallery space has been configured as a domestic setting, with chairs arranged around both the dining table and a low stool. Here, the walls have been painted a deep green with free-hand depictions of the furniture items and their dimensions outlined in white at various points. On the other side of the space, a series of stools, a chair and a bench are arranged on a raised L-shaped white display, in a more conventional gallery setting. Corks will be on show at Kasmin's 297 Tenth Avenue space until 28 June.