Chinese studio X+Living has created the JOOOS Fitting Room, a new shopping experience in Hangzhou, China, in order to make up the sense of emptiness of modern online shopping. The JOOOS Fitting Room integrated the top 100 fashion brands from the sales list of tmall.com, and selected four collections – Mori Girl Collection, Celebrity Collection, OL Collection and Fashionable Girl Collection – for representation within the store.
Hangzhou JOOOS Fitting Room is located at the door of the ground floor of the Commercial Street Phase II on Xingguang Avenue. An eye-catching screen is placed at the main entrance, every customer could make interactions with it through internet. This is the most distinctive feature of JOOOS Fitting Room- building offline fitting experience in the internet age through ubiquitous screens.
Get through the large arch in the main entrance and you will be in Mori Girl Area. Milky white textured walls and white floor create a clean and white space. Bamboo poles are set up and hemp rope is used to connect them, clothes racks are thus formed. The mirror is hidden in the facade of angle formed by two bamboo poles. The space is bright and concise, primitive and simple materials are used to echo with the temperament of this type of clothes in this space.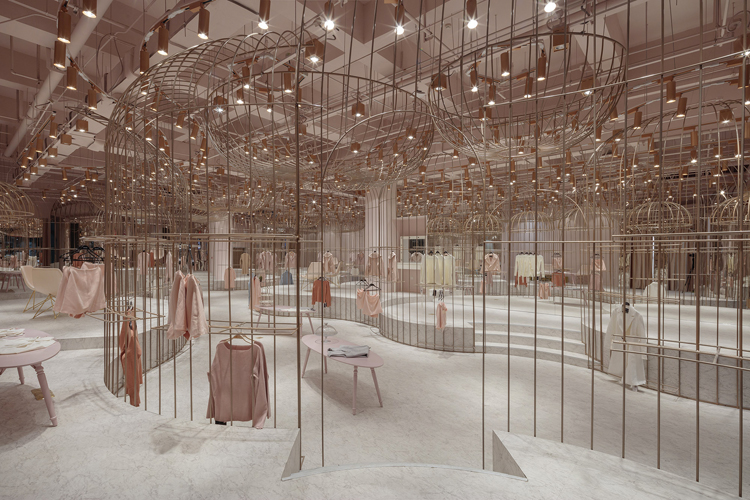 Celebrity Collection Area – many delicate golden cages are designed, clothes racks are placed at both inside and outside of the cage. Seen from a distance, they are like princess bubble skirts being well protected. The waving arc platform adds fun to the space and makes it lively and lovely. The fitting room is hidden skillfully inside the "bubble skirt" of curved mirror surface. Meanwhile, each fitting room area provides make-up area, rest area and selfie area, waiting for the visit of every princess.
OL Collection Area- dark grey floor, concrete art paint walls and frame track light make the whole space concise and reserved. Adding of fireplace and wood veneer has softened the texture of the space. While being decorative molding and multifunctional clothes hanger at the same time, every clothes rack is a perfect combination of form and function.
Finally, the Fashionable Girl Collection Area – contrast of large blocks of colors. Colorful shelves are formed by folded iron bars. In this space that emphasizes individuality, folding angles before and after the rack are used to divide it into a structure which could hang clothes on both sides. And the weaving of colors and fold lines is used to build a colorful space with strong characteristics to echo with personalities of the clothes in this space.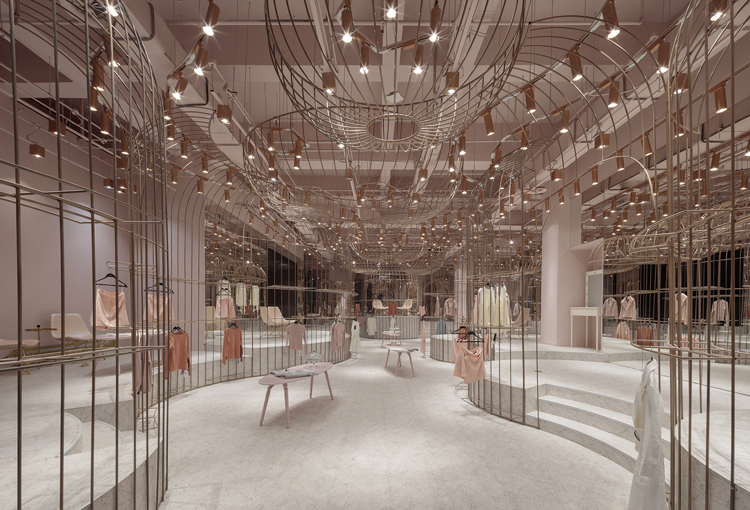 all images © Shao Feng