After his project called: "#le_baiser", where hundreds of couples were projected kissing each other onto the walls of Paris, street artist Julien Nonnon bringing the experience to the next level by making is own travelling Cinema in Cannes for the 71st edition of the Festival with his last opus, "From Cannes with love."
Inspired by the official image of this 71st Festival of Cannes, where we can see a beautiful kiss from the Godard's movie "Pierrot le Fou", the street-artist Julien Nonnon illuminated by his ephemeral art Cannes with kisses of couples, a tribute to cult scenes of great classics staged in a Cinema by its own: the Street Cinema.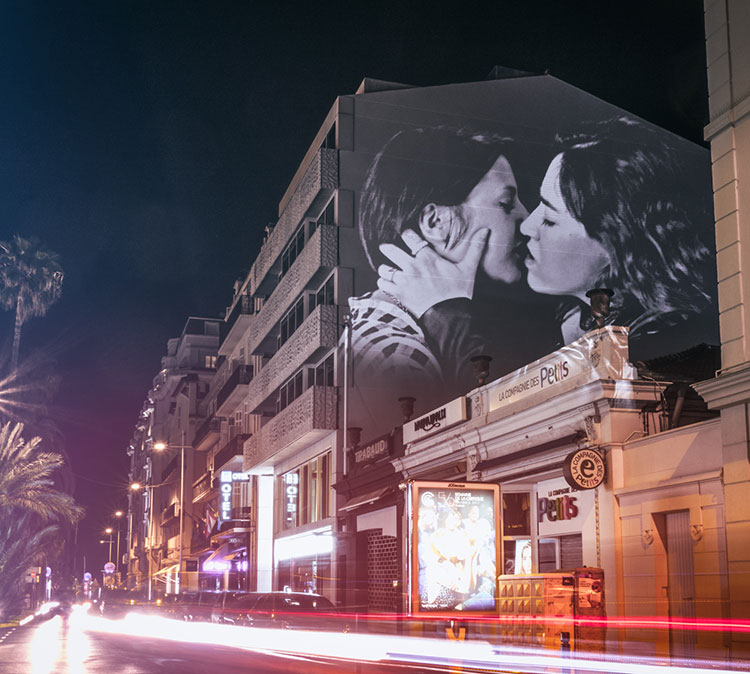 The kiss has been a classic revisited by the greatest directors of the 7th Art, Julien Nonnnon appropriates it and adds the imprint of its ephemeral and spectacular art that is "Street-Mapping". He captures a moment, a movement, such as a choreography, and transcribes it into Cannes architecture, thanks to its mobile projection system. It thus pays tribute to lovers and above all to the city of Cinema.
In fact, the artist was inspired directly by worship scenes of great classics. Thus, David Lynch's kisses in Mulholland Drive can be recognized by their compositions, colors and movements; as well as Carey Mulligan and Ryan Goglinh on Drive ; moreover the kiss of Leonardo DiCaprio and Claire Danes in Romeo + Juliet by Baz Luhrmann.
Julien Nonnon wishes, through this poetic and contemplative work, to see the inhabitants of Cannes reappropriate their city with love. For the realization of this project, an open casting, was organized in Cannes by the artist: "I wanted to film local couples, and make them play scenes of Cinema kisses!"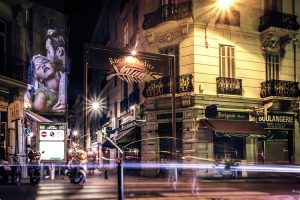 An artistic performance that the audience were able to discover during the Festival, at nightfall in various emblematic places of the city (La Croisette, Le Suquet, Street of Antibes). An open air street cinema where the couples that took part on the adventure, had the opportunity to see their kisses projected in giant, becoming therefore the real "Stars" of the Croisette.