Spanish studio Nook Architects has recently refurbished this two-storey house for a young couple in Barcelona. The Juno's House project was originally intended to be a modest refurbishment (renovate the kitchen, opening it to the living room, adding a new bathroom and give the whole a fresher look), but on discovering the house had been poorly constructed the studio planned a more extensive renovation.
The young and pregnant Swedish-Spanish couple had a very Nordic vision of what the house should be: open, luminous and functional. Unlike most families, they did not have the need to isolate the bedroom from the rest of the living spaces, except for the two bathrooms. They wanted to strengthen the visual relationships between each space and distinguishing their use without compromising versatility.
This led Nook Architects to work from the section since the beginning. Instead of segregating the spaces between two simple levels, they placed the light staircase cross-wise to the main length of the plot and dislocated the section by misaligning the slabs and generating middle floors that allowed the light to flood in all the way to the back. This also allowed the architects to place Juno's bedroom mid-way up, in a central position to ease the mothers' supervision from the main room and the studio.
The entrance lies on the back of an exterior, long and narrow passageway, so the entire volume is oriented towards a single façade on the back patio, which is the main source of light and allows for the main living area to be lengthened towards the exterior and to dilute the boundary with the interior. Two floors up, on the studio level, the façade retracts to ease the entry of natural light and to form a gardened terrace for Juno to play on. Two skylights were opened up allowing sunlight to bathe the levels below through the staircase.
On this house Nook Architects wanted to reflect the honesty of its material, chasing the upmost comfort without the need of secondary, cladding materials. The floor slabs are left bare, merely painted, the volume on which the staircase is supported is finished with exposed stucco and the wooden panels meant to be used for shuttering act as a slab for the mezzanine level and are left with their original finishing. Vestiges of the original house are found on the exposed brick wall on the back of the plot, where the trace of the old, exterior staircase has been left as a testimony of its past.
Juno's House synthetises the evolution of a complex and volatile project. Unforeseen circumstances became opportunities for the development of a house customized for the lifestyle of the young couple and their daughter, who was merely a year old when the works were finished.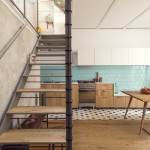 all images © nieve | Productora Audiovisual