The new Kane World Food Studio, a restaurant designed by Hungarian practice Bogdan Ciocodeica, is a urban jungle in the heart of Bucharest. The space is designed as an urban oasis, a lush jungle enclosed in a concrete and steel frame. The green, vegetal component of the design comes to complete the concept of the restaurant, that serves a unique, exotic, round the world, fusion cuisine. The plants create a strong outdoor connection, at the same time defining a few private, secluded areas.
The materials used are raw, direct and uncomplicated. Concrete on the floor and the pillars, glazed ceramic tiles for the colored background layer, mirror on the walls and brass details all make up a perfect background for the marble and wooden furniture. All the different areas are the direct result of the functional scheme, a delicate balance between the higher, more strict perimetral sitting area and the middle , softer, more organic, fluid occupancy.
The space is treated uniformly with various different focal points, starting with the eight meter long marble bar with a mirror in the background and a light mint ceramic frame and continuing with the delicate exotic wall painting, that balances the fine constructed lines with the strong and abundent theme of the luxurious jungle. For more depth and perspective a mirror has been added next to the painting extending the artwork. The technical ceiling is apparent, continuing the straightforward, exposed approach of the entire design, painted in a rich, dark, deep green that ties the elements together.
The light is soft, and focused on the tables, with a few exceptions that highlight various focal points. The entire atmosphere is constructed to complete the culinary experience and to help immerse into the green, lush urban oasis.
The restaurant, that stretches on a surface of 180 sqm with 74 seating places, features custom made furniture as well as ready to use pieces from brands such as Normann Copenhagen, Bolia, HK Living, Seletti and Hubsch.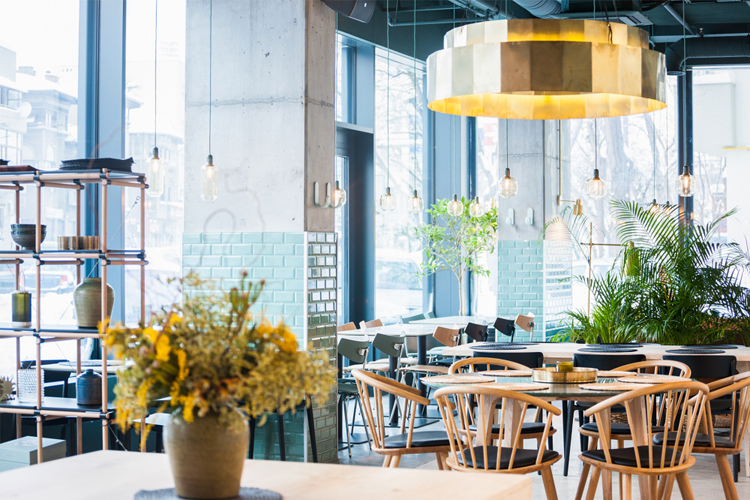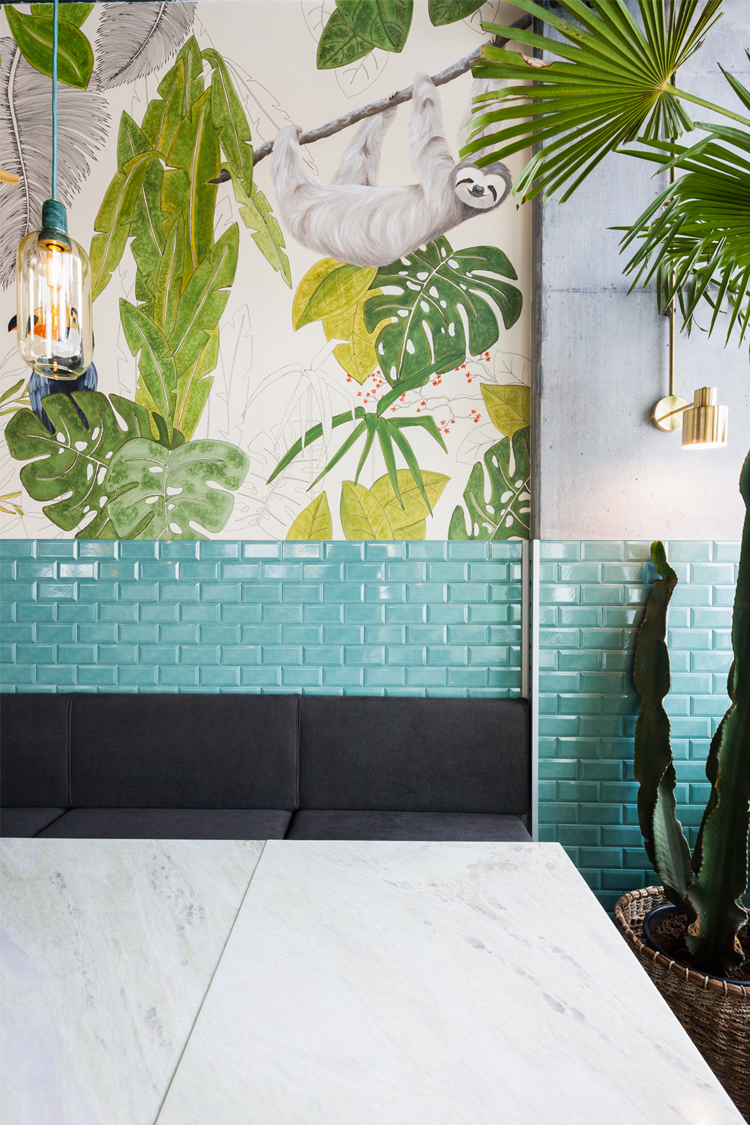 all images © Andrei Margulescu