Southern California-based Karma Automotive chose Auto Shanghai 2019 to show the first stunning result of the partnership with Pininfarina: the Karma GT designed by Pininfarina, a true "Gran Turismo," with a two-door layout and luxurious appointments throughout. Karma Automotive first approached Pininfarina in August 2018 to invite the Italian design house to collaborate on an all-new 2020 Karma Revero-based project. Pininfarina shared its first sketches with Karma last September, and the build program officially started in December.
The 2020 Karma Revero is "a magnificent, elegant, and statuary vehicle that sparks a lot of emotion," but Pininfarina wanted to create a more assertive vehicle, something with unique "Italian sports car" flair. It settled on a GT, or "Gran Turismo". Pininfarina started its GT build by stripping down its donor Revero and prepping the all-aluminum frame to mate with a totally new, two-door body.
The Karma GT designed by Pininfarina respects the Revero's recognizable proportions, but its exterior is drastically different. Most notably, this is a two-door coupe, which required Pininfarina to build new body sides from the ground up. The car expresses its unique personality through choice modifications made by Pininfarina.
Surface language is simplified, with relaxed shoulders and a softer feature line, and the Karma GT designed by Pininfarina has flush door handles in order to keep body volumes as pure as possible. A tasteful contrasting black roof complements bone gray paint, and trim work is finished in either piano black or smoked gunmetal gray.
Karma GT designed by Pininfarina's front end is more aggressive, with a symmetrically slatted grille and squinty LED headlights. The outside corners of the front fascia kick upward to match the dramatically styled, cross-cutting rocker panels that ground the GT. A pair of boomerang-shaped LED taillights frame an elegant, powerful rear end. The Karma GT designed by Pininfarina's seductive, sucked-in waistline looks best in plan view, but its proud stance is better appreciated from a crouch.
White and off-white leathers blanket the bright, inviting interior, and elegant burgundy piping underlines the main shapes of the cabin and contrasts nicely with the creamy leather. The seats feature a new quilting scheme to emphasize the sensation of comfort. Bits of soft, velvet-like nubuck hide and satin aluminum trim create a modern atmosphere with a hint of old-world sophistication. Multi-tone stitching adds to the atmosphere of the carefully elevated interior, and a small, embossed Italian flag on the seat backrests is a playful reminder of the Karma GT designed by Pininfarina 's providence.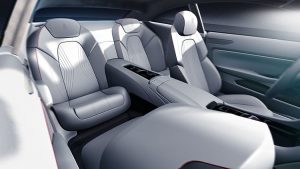 The Karma GT designed by Pininfarina is, therefore, a true Pininfarina, and a great Karma; if the Karma GT designed by Pininfarina piques the interest of enough enthusiasts, Karma Automotive will introduce a limited run of production vehicles. If that happens, Pininfarina will build the cars in its atelier outside of Turin and will invite customers so they can personally configure their GT, making their car a "tailored suit", as only Pininfarina can do. For now, though, Karma Automotive is capturing select characteristics of the Karma GT designed by Pininfarina and working them into forthcoming production vehicles.