Kenzo has finally taken the wraps off of its newest boutique in Milan. Developed by creative directors Carol Lim and Humberto Leon, the flagship store has been fitted with brand's latest approach to retail by using a concept that the duo debuted in Asia last year. Melding Kenzo's unique style with modern architectural elements, the two-floor store offers an opportunity for the brand's milanese customers, to wholly immerse themselves in the playful universe of Kenzo.
As a first step on their journey through the 246 sqm store,  visitors are met with a giant sculpture of a hand forking a plate of spaghetti. Also designed in-house, the striking artwork is a nod to the Milan's food culture.
The store is dedicated to Kenzo's pre-collections and runway collections for women and men as well as accessories, footwear and leather goods. A grid of fluorescent lights hangs overhead, illuminating cleanly drawn racks made from a dark blue anodized aluminum. Each zone has its own colour tone — shades of blue for the boys and peaches and pinks for the girls.
The stairwells which divide the upstairs and downstairs spaces and the monoliths which serve as the cash desks are a deep lapis lazuli stone. Furnishings include glass showcase vitrines with steel piping for smaller accessories, suiting tables with embossed metal displays and sofas in soft leathers and tainted furs.  Offering a more engaging shopping experience, electronic screens work as moving picture tiles, providing extra digitalized space to present each season's major themes.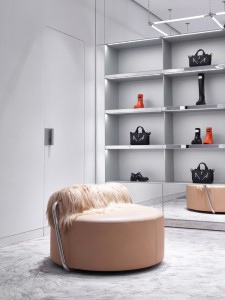 images © Annabel Elston