A Victorian semi-detached house on Pages Lane in Muswell Hill, London, has been transformed by local practice Kirkwood McCarthy into light-filled home with a new living space that sits between the garden and a new courtyard. The aim was to open the ground floor to the garden and bring in plenty of light, as well as to expand the footprint of the property to create plenty of space for the family of four.
The exterior of the new addition is clad in black zinc to distinguish it from the pre-existing structure. An asymmetric roof was designed to preserve both the canopy of a Mountain Ash tree in the garden and the view from a first-floor window to the garden.
Inside, the 3.3m vaulted ceiling exaggerates the sense of space, flow and volume, seemingly as open and airy as the garden spaces it adjoins.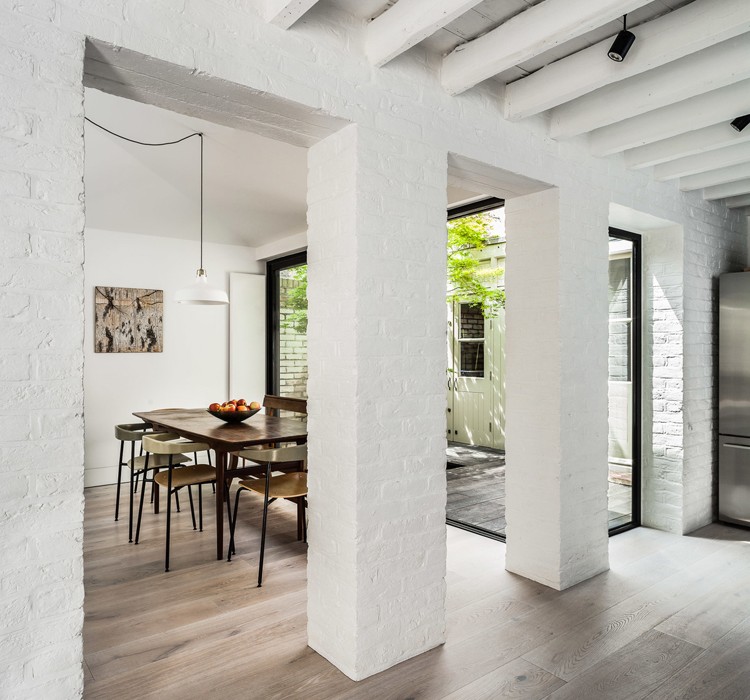 A clear distinction between old and new elements is realised by the material palette. For new elements graphite zinc, black steel and minimalist detailing are used to distinguish against the softly textured brick and timber panelling to the original house. The existing built fabric has been restored to its original intent; openings remain and the timber sash windows restored. In the kitchen, openings were dropped to floor level and serve as portals leading into the new wing, subtly denoting a threshold between old and new.
all images © David Butler