London-based brand Kite Eyewear has teamed up with Benjamin Hubert's experience design agency Layer to create a modular 3D-printed eyewear collection. The KiteONE collection comprises a frame which is manufactured to the specific measurements of the customer's head and face to create a bespoke, perfectly-fitted pair of frames. The eyewear can be further customized through a choice of four different temple styles, three different colors, and finish.
The made-to-measure experience begins when customers get their head and face scanned in-store via a handheld scanner by a Kite stylist. The 3D scan records various measurements – including the distance between pupils, head and nose width, and ear positioning. The customer's head is then visualized on the KiteONE app, also designed by LAYER, and the glasses are fitted live on screen. The measurements taken by the scanner inform the dimensions of the eyewear and temple length so that the frames fit perfectly.
The software also enables users to further customize the frames through slight alterations to the softness of the lens form to suit their face shape. A choice of four temple styles allows the user to tailor their eyewear to an activity or increase the t. This level of customization is a first in the eyewear sector.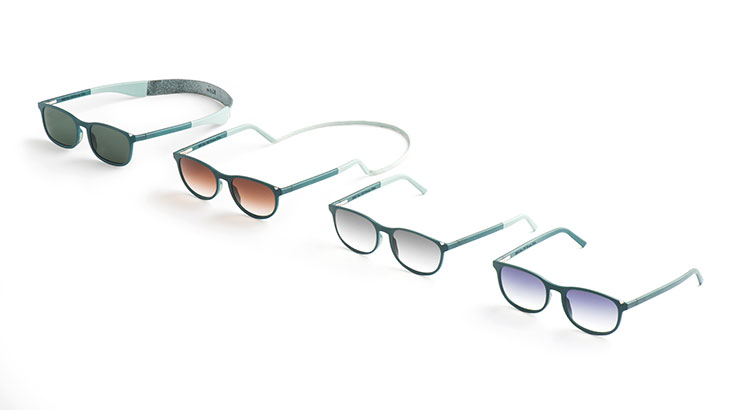 The KiteONE collection is available in three different colors, and also includes the option to print a bespoke message inside the temple, and select the hinge and brand element coloration. The KiteONE app utilizes an intuitive and simple UX and a minimal design that reflects the Kite branding, which was also designed by LAYER.
Once the eyewear is created digitally, the file is sent to the Kite local supplier network to be 3D printed, finished and dyed. This process takes three weeks, and the 3D-printed components are assembled in-store by a Kite stylist.
The KiteONE collection is based on a classic style, which is modernist and simple in its design language and utilizes controlled radii and surface integration. The measurements of each pair are subtly altered based on the user's head and face measurements to create a bespoke design and the perfect fit.
The frame is made from 3D-printed nylon material, with four different temple options. The integrated nose pads are made from breathable silicone rubber with a matte finish, which minimizes the contact point and heat/sweat build up.
The KiteONE collection launched in September at designjunction as part of London Design Festival 2018. KiteONE will launch in store in Spring 2019.