Kodak redefines 360 degrees HD video and panoramic photography with its new SP360 Action Cam. This game-changing, innovative and highly portable device is designed to capture stunning 360 degrees HD videos and fully immersive images all in one shot and without the need for multiple cameras and devices.
The SP360 Action Cam is small enough to fit in the palm of hand and sports a unique, dome-shaped fixed lens that captures stunning 360 degrees HD videos (30fps) that can be shot and viewed from multiple vantage points including: 360 degrees Panorama, Front (212 degrees), Split with 180 degrees front and rear views simultaneously, Dome (214 degrees) and Ring/Sphere (360 degrees) modes.
The SP360 Action Cam goes beyond just capturing fully immersive 360 degrees HD video and adds a new level of interactivity with free, de-warping app software included for Mac or PC based systems, that allows owners to edit their content post capture. Once the HD video is downloaded from the SP360 to a computer, users have the ability to pan and select a multitude of viewing angles (including: top, left and right) and save them as new video files. Users can also select individual frames from different viewing perspectives in the HD video and save them as hi-resolution still photos for even more creative ways to capture and share their passions and experiences.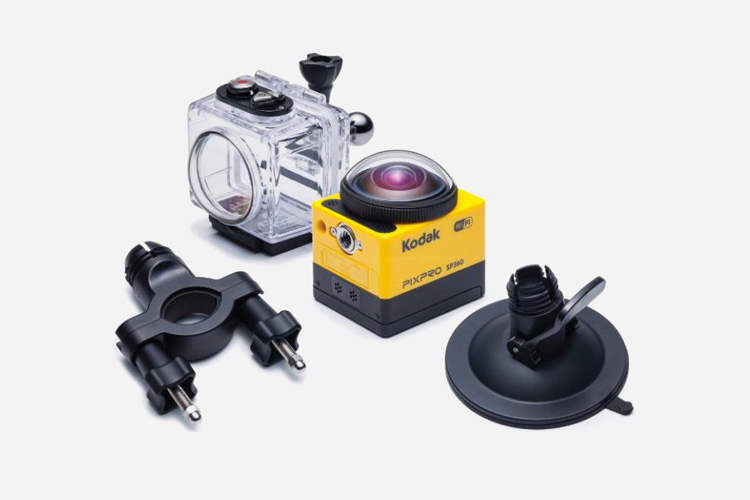 For even more flexibility, the SP360 is equipped with a motion sensor setting to automatically trigger recording when it detects movement, especially helpful for hands-free activities. The SP360 Action Cam is Wi-Fi enabled and allows quick connection to a smartphone, smart device or personal computer. The SP360 uses the free PIXPRO SP360 iOS or Android-based App available in Apple's iTunes and Google Play stores now.
The Kodak PixPro Sp360 is now available for $349 USD at kodak.com.
all images and video courtesy of KODAK