Perched high above the city of Los Angeles on nearly eight acres in the exclusive enclave of Bel Air, the private residence is a cinematic tour de force, capturing views of the city below and majestic valleys behind. Designed by Miami-based architecture firm Oppenheim, the three-story residence features sculptural massing of rectangular forms and astonishing cantilevers with expansive window walls that provide breathtaking and quintessential views of the Los Angeles skyline and the surrounding terrain. The dramatic home was designed to be nearly invisible from the street, blending into the hillside. Its powerful design celebrates and maximizes views of the sky, nature, and the city while creating comfortable domestic spaces.
The house pivots on its axis at each level in response to different functional and program requirements while maximizing and accessing its variety of dazzling vistas. As these planar shifts give issue to a varied and dynamic mix of forms, the complex massing yields a fascinating set of residual spaces that make for all sorts of unexpected and novel places to be lived in.
A dramatic entry sequence from drive to court, to a sunken garden pond and waterfall, leads you inside the home, where there are five bedrooms and ten bathrooms on three levels. The main level features a spacious entry foyer with a louvered skylight that organizes the home in both plan and section serving as its nucleus. Living room, family room, library, and bar are all surrounding the central space, while an office, kitchen, and dinning room radiate off in different wings. A secret hang-out room is hidden behind a bookcase.
A two-level 250 infinity edge swimming pool cascades down with the land forming a lower level organic shaped beach, while the upper level is more architectural – complete with a glass wall facing the city.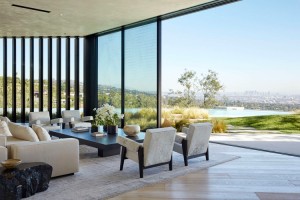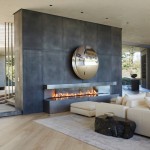 all images © Roger Davies courtesy of Oppenheim Architecture