A Toronto family who wanted to prioritize outdoor living and easy social gatherings in their new home has commissioned MacLennan Jaunkalns Miller Architects (MJMA) to replace their existing 1930 cottage facing Manitouwabing Lake. MJMA sought to let the 2,746-square-foot home "cascade and hover over the grade, to blend with the landscape, and to have a quiet presence from the water," so they arranged low-lying rectangular volumes around an exterior courtyard. Then they wove in extensive glazing that allows residents to access the peaceful surroundings from inside.
The project was developed around the goal of enhanced outdoor living and social gathering. A rectangular plan is carved to create interlocking outdoor terrace and courtyard spaces featuring an expansive and levitating lake deck and screened porch. Extensive flat roofs recall warmer latitude mid-century precedents and float outward to frame the quintessential Canadian shield horizon.
The greater plan has a clear singularity with its opaque outer shell retaining the intimacy and humility of cottage vernacular. At the heart of the design is a central courtyard, featuring a uniquely clefted rock, curated to speak to the power of its place as well as its affinity to the project's design parti. A large screened porch has three sides of retractable insect screen – wide open or bug-free – dependent on season. The plan is divided into three east-west program bars with public living placed on the southwest, private living on the northeast, framing the outdoor living space in between. A 'sharkfin' clerestory roof captures morning light to internal rooms.
The site's orientation is south and west, collecting warmth, light, and views throughout the day. The building sits low on the land and steps along its length to connect with the landscape. The building sits quietly back from the water behind a stand of archetypal pines. The flat roof bungalow shelters both indoor and outdoor living spaces and presents two dominant relationships based on orientation – transparent and open to the south-west, opaque and protected to the north-east.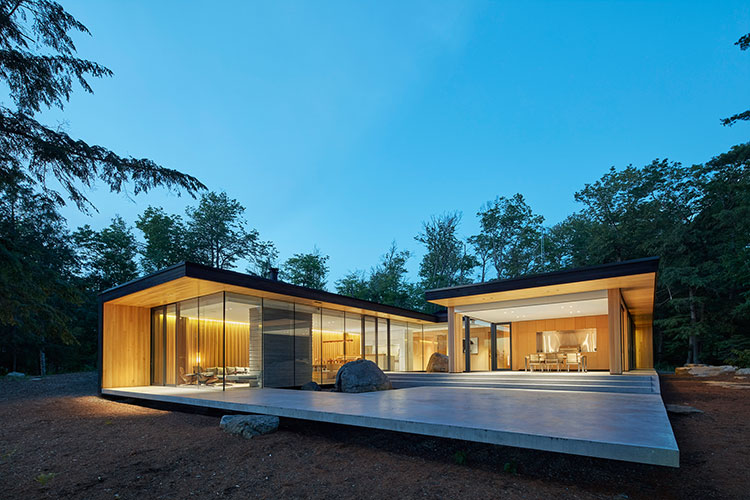 The main living and eating areas backstop the length of the outdoor space and is oriented directly to a view of the spring and fall equinox sunsets which disappear precisely into an open channel between two islands at the far side of the lake. A bar of bedrooms is located along the private portion of the site opening out to a southern lagoon, affording east morning light and oblique lake views.