Benjamin Hubert of experience design agency Layer has designed a second home speaker for Bang & Olufsen that features a slim book silhouette. Following the sculptural Beosound Balance, this latest speaker from the collaboration features a slim, book-inspired design that's conceived to be aesthetically pleasing from any angle and to fit seamlessly into home interiors.
"The vision for Beosound Emerge was to create the slimmest speaker possible that could still deliver full range, ultra-wide sound despite its size through its revolutionary driver configuration," says Christoffer Poulsen, Senior Vice President and Head of Product Management at Bang & Olufsen. "Whether placed on a bookshelf in the bedroom or a tight corner of the kitchen, the slim design of Beosound Emerge allows you to extend your music to a new room or complement an existing speaker in the same area without taking up extra space."
Using tactile and warm materials inspired by residential interiors, Beosound Emerge gold-tone features an oak cover that wraps around the woven Kvadrat textile on its spine. The pearl-blasted aluminium, anodised in a gold-tone, visually grounds the speaker in luxury and is aesthetically pleasing from every angle due to its tapered silhouette. The speaker cover is also available in a high-grade aluminium Black Anthracite finish with a pearl-blasted grill. The polymer side panels feature a vertical corrugated pattern that accentuates the slim lines of the speaker. This sensitive material approach softens technology, highlighting Bang & Olufsen's dedication to craftsmanship.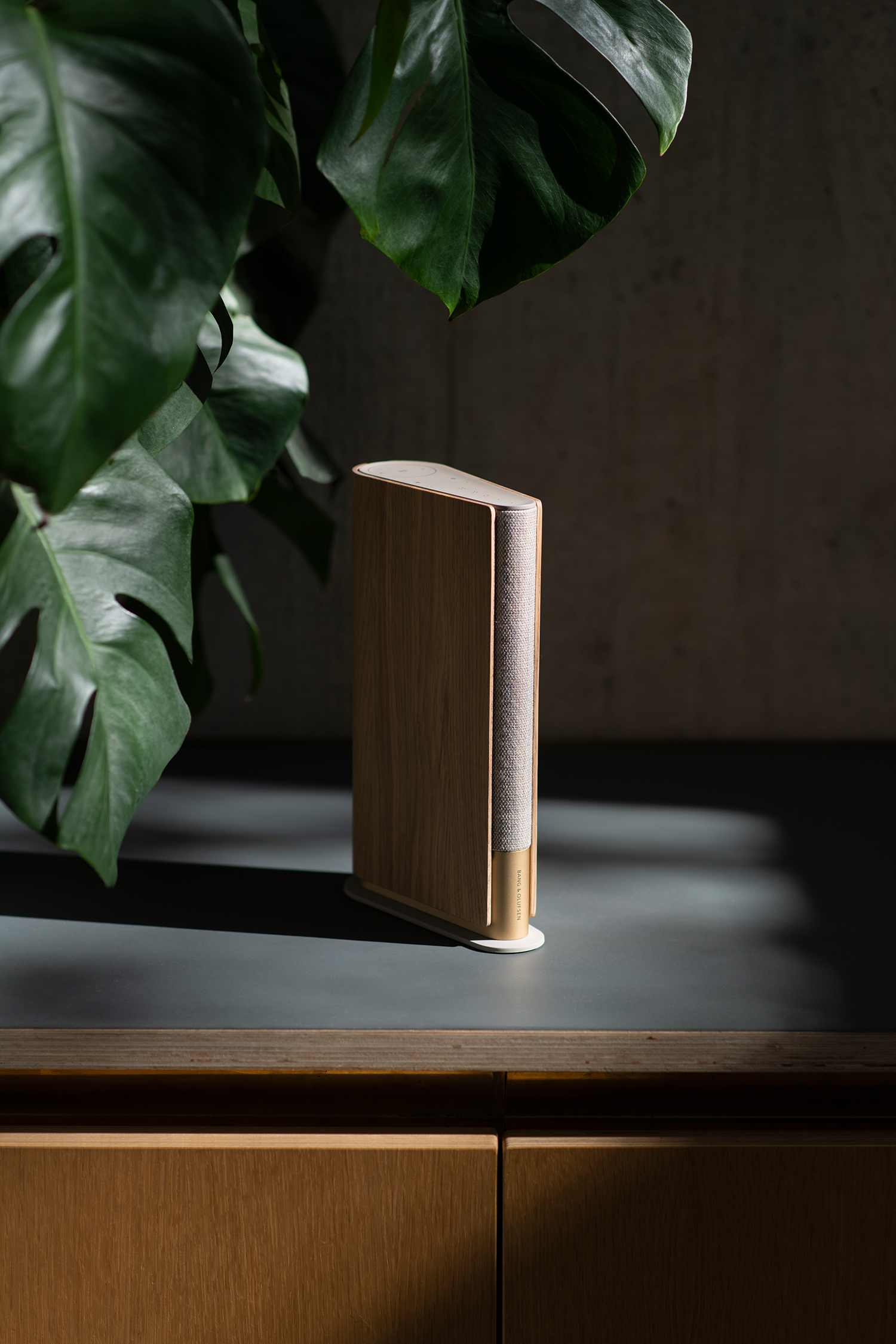 "As a studio, we like to build long-term partnerships with the brands we work with and Beosound Emerge is our second collaboration with Bang & Olufsen," says Benjamin Hubert, founder of Layer. "The super-slim speaker has been designed to minimise the physical footprint and maximise the audio output as a response to the real estate in people's homes being at an unprecedented premium. At Layer, we believe that technology should enable happiness but doesn't necessarily need to be an expression in its own right, so it was equally important for us to create a new architectural format with a strong sculptural sensibility and a more domestic material palette that will stand out in the saturated audio market while seamlessly fitting into the home."
The user interface for Beosound Emerge is intuitively incorporated into the top of the product. The buttons can be activated through soft touch allowing users to pause music and change track or easily access favourite radio stations and playlists. The volume adjustment is a unique experience that employs a circular motion to adjust up or down for a smooth and sensory interaction.