Benjamin Hubert's design agency Layer has designed Beosound Balance for luxury Danish consumer electronics brand, Bang & Olufsen. The compact yet powerful speaker is driven by an intelligent approach to sound design. The distinctive, sculptural silhouette expresses the speaker's performance, with a large base unit supporting a textile-covered cylindrical speaker with a touch- and voice-activated interface on top. The result is a room-filling, three dimensional sound from a speaker that takes its inspiration from the design language of domestic objects rather than high-tech products. This is the first project by Layer for Bang & Olufsen and was 18 months in research and development.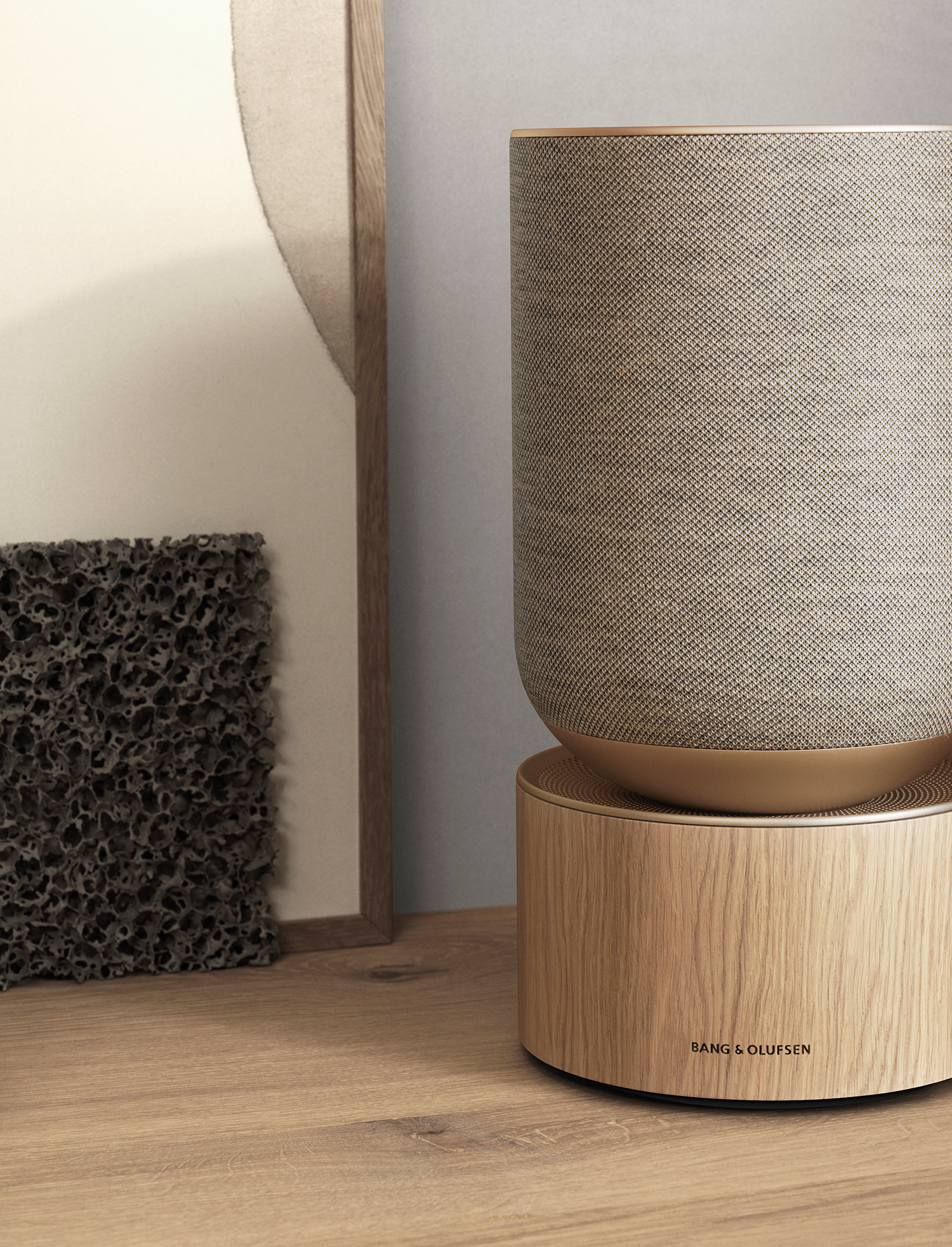 The form of Beosound Balance is driven by the speaker's audio performance, with a simple, cylindrical base unit on which a more expressive form sits. Together, these two elemental forms create a sculptural object – like a plinth supporting an artwork or vase – that disrupts the monoblock format of most speakers in the market. Like an interior object, the medium-sized speaker can sit either on the floor or on a shelf or mantle. 
The timber base unit contains a large, omnidirectional bass speaker driver, which is positioned in a vertical orientation and topped with a metal mesh dish with perforations in a Fibonacci sequence. The bass is reflected off the rounded metal base of the top form, maximizing its acoustic potential and providing a room-filling, low-end rich sound. 
The softly sculpted upper unit contains the precise mid- and top-end drivers, which complete the warm, well- balanced audio performance. These drivers – which provide directional audio – are positioned under a seamlessly knitted textile cover. 
The intuitive, touch-sensitive interface is located on the top of the speaker unit, and allows users to control volume and track settings using simple, gestural movements. The UI is indicated by symbols that have been micro laser-etched into the aluminum surface and are illuminated by LEDs. When not in use, the LEDs turn off so that the interface effectively disappears, leaving a completely pure object without the typical signifiers of a high-tech product and only illuminate when the user approaches 
Beosound Balance speakers can be used individually or connected together and configured into a multi-room or surround sound system.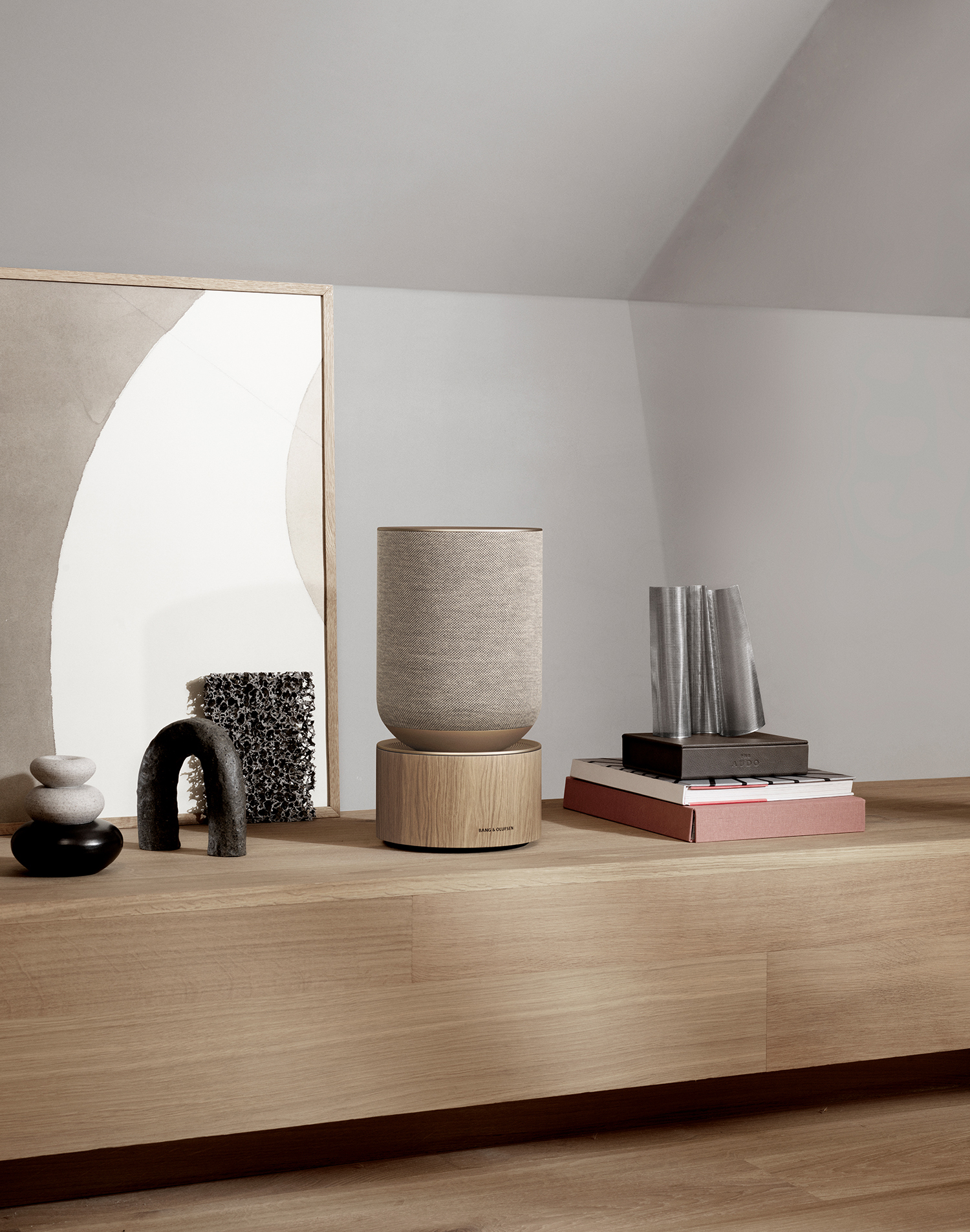 To reinforce its positioning as a domestic object, Beosound Balance is crafted from a rich palette of materials that are more readily associated with homewares and soft furnishings than tech products. The base unit is made from FSC-approved solid timber, blocked and turned as in furniture construction. This material choice not only communicates craftsmanship but also offers quality and superior sound resonance. The upper unit is wrapped textile, referencing interior upholstery; while the metal reflector and the interface panel are made from pressed aluminum and inspired by finely crafted tablewares. The textile cable is long enough that the speaker can be easily positioned around a room as needed, meaning the speaker is not constrained based on power needs. 
Beosound Balance is available in two colorways – Natural Oak and Black Oak. 
"With Beosound Balance for Bang & Olufsen, we wanted to create a sculptural interior object for the home, while still offering the performance of high-end audio equipment," explains Benjamin Hubert, founder of Layer. "The pure, geometric volumes are driven by the acoustic performance of the speaker, visually describing how the audio functions. This approach delivers a product that is intuitive to use and easily fits into the domestic environment without compromising on sound quality."
Beosound Balance retails for 2,250 USD, launches in Natural Oak and Black Oak and will be available online, in select third-party retailers and in Bang & Olufsen stores from March 2020.