Beautiful sunshine, warm weather, and winding roads are the perfect complements to the Lexus LF-C2 concept car that made its global debut at the 2014 Los Angeles Auto Show. The LF-C2 concept car is a design study in the form of a 2+2 roadster and explores key styling themes involved in the Lexus brand's future, bolder styling direction. The LF-C2 is also a luxury Grand Touring concept inspired by the brand's passion for driving.
The LF-C2 concept involves a highly styled 2+2 layout, and is derived from a pure and simple sports coupe idea. Its open-air design allows the driver and passengers to feel the wind through their hair, while enjoying the car's performance characteristics on their favorite twisty road. As a roadster concept, the LF-C2 concept does not have any kind of top covering the cabin.
The exterior styling of the LF-C2 was influenced by the way various surface shapes interact with different types of light. Designers created edges, planes and curvature that would allow the LF-C2 to exude a different character when seen from different angles and under different lighting conditions. This objective when combined with Lexus' layered paint process results in a striking and progressive interpretation of an open top luxury GT.
The brilliant, golden yellow is produced by a multi-layer paint process. The first coat is a primer, followed by silver, a clear coat, then the yellow that reflects off the silver to give the brilliant luster. A final top coat is then applied.
Step inside, and the LF-C2 treats its occupants to a luxurious and spacious cabin that flawlessly matches the sporty elegance of the exterior. The exterior extends into the cabin as the center console originates from the rear deck and runs down the length of the cabin all the way to the dashboard. The dashboard design is presents functional simplicity with an attractive-yet-straightforward instrument cluster, a central video monitor controlled by a Remote Touchpad on the center console and a classically-styled analog clock placed between the central air vents. The inviting cabin of the LF-C2 blends the open-air excitement that results from an eye-catching roadster blended with a heavy dose of Lexus luxury.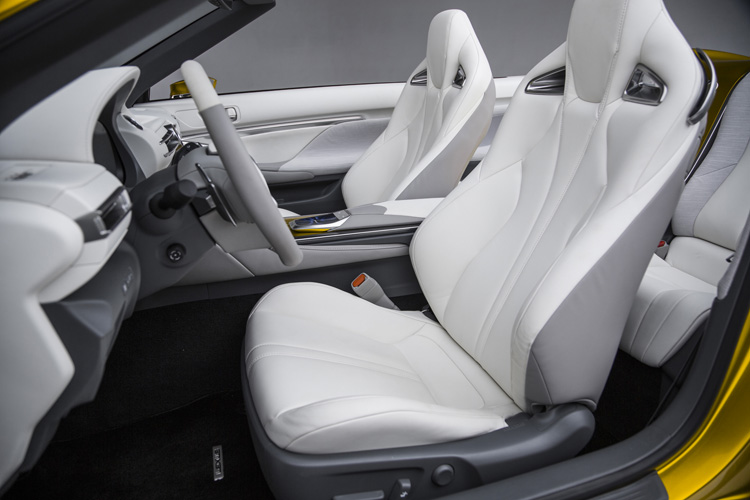 all images courtesy of LEXUS