Gwenael Nicolas, founder of Tokyo-based multidisciplinary studio Curiosity , was commissioned to restored Palazzo Fendi, the Iconic flagship store of the Luxury Italian brand in central Rome. Built during the 17th Century, Palazzo Fendi initially was one of the residences of the aristocratic Boncompagni-Ludovisi family in the Italian capital.
Covering almost 1000 square meters, the new boutique is an evolution of Fendi's Paris, London and Milan flagships designed as well by Gwenael Nicolas. The interior is thought to create an intimate relationship between the Roman origins of Fendi and the modernity of the brand. The contrasts of traditional materials like antique marble are reinterpreted into contemporary patterns. At the entrance, the staircase in red marble connects the two floors in a large void that opens-up across the heart of the building.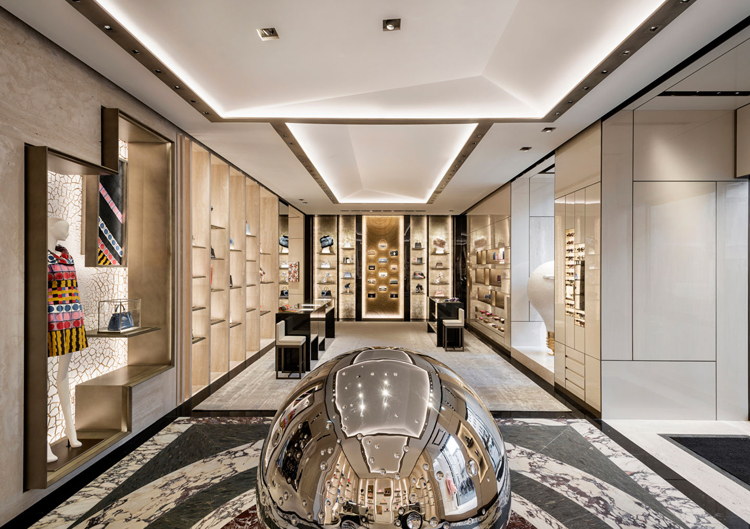 Its design inspired by the Italian Renaissance architecture of Vignola, is modernized with the use of unexpected materials like the silver leaves on mirror on the ceiling. At the ground floor, the ceiling appearance is inspired by Roman vaults. When the coves are lit, the rooms acquire monumental aspect.
The icons of the brand, like the "spike wall" is presented along series of carefully designed sequences, fur room, ready to wear, accessories, each with unique features and meticulously selected materials. Each room is enriched with art pieces and sculptures.
In a dramatic setting, the men's collection has its own boutique with a series of intimate rooms that focus on each product categories in a shade of amber and bronze colors.
At the second floor, revisiting the code of FendiI's previous flagships, the ready to wear collection is displayed in tints of gold and white, while the Furs are on shown in a silver and black room.
all images courtesy of Curiosity
Comments
comments