Dutch studio concrete has completed the CitizenM's flagship hotel in Paris: CitizenM Gare de Lyon. Located within a former office tower block, this particular hotel offers 338 rooms, topped with a Parisian-apartment-style CloudM skybar, just around a block from one of Paris's major transportation hubs, Gare de Lyon train station.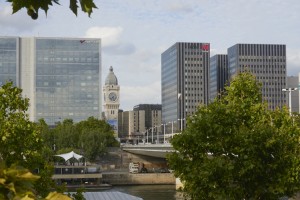 The public areas on the second floor are designed with the aesthetic of 'chambre en suite', which is a series of living areas that are all sub-divided. Located in the heart of the living rooms is canteenM, a lively space to eat, drink and socialize. The space also includes an open air patio with hanging lanterns dividing the bar from the meeting rooms, bringing light deep into all the public areas.
Dotted around the space are the signature black citizenM cabinets filled with colourful and quirky accessories and objects from all over the world. As with all citizenM hotels, the walls are decorated with specially commissioned artworks including a bespoke mural by French street artist Mast Cora and a bespoke fresco created by local artist Romain Froquet. The space also includes an open air patio with hanging lanterns dividing the bar from the meeting rooms, bringing light into the space.
On the ground level is a double height entrance area which houses 'Reflecting Holons' – an installation by artists Jetske Visser and Michiel Martens. It's magic of light and movement show bubbles, which are continually shining, moving and dancing – a visually arresting spectacle that provides an immersive and playful experience for citizenM visitors.
From here, the elevators ascend to the second floor where guests can self-check-in and enter the world of citizenM's famous living rooms where they can work, rest, meet and play. The first living room is fitted with an oversized fireplace and a bespoke carpet designed to evoke the ticking clock of the Gare de Lyon station.
Moving up to the top floor of the hotel, guests will find a sky bar – cloudM – first introduced in citizenM New York, allowing them to enjoy stunning views of the river Seine and the city. Designed to evoke the appearance of a Parisian apartment, the bar includes light colours, deep coloured oak wooden cabinets and soft furniture to make visitors feel at home. The marble bar top and glass bottle shelves add a typical Parisian touch to cloudM.
Every guest room of the newly CitizenM Gare de Lyon features the characteristic huge bed, powerful rain shower and tablet mood pad that controls your entire room: the temperature, lighting moods, blinds, alarm and entertainment.
New in Paris, guests get even more comfort thanks to a soft and cosy headboard which can turn your huge bed into the greatest sofa you've ever had. Here you can watch movies all day, work into the night or just snuggle up and contemplate the view.
The headboard is fully equipped with integrated light switches, a bedside lamp and a shelf for your books, postcards or pictures of your beloved ones. A soft pendant light hangs in the corner above the bed. Guests can also stream their own content to the wall mounted television from their tablets or smartphones, from music to movies – or the latest box sets. Each room is also equipped with a small desk and a variety of plug sockets to charge any mobile device, no matter where it's from. As with all its properties, citizenM has worked with design and architecture practice Concrete to create the distinctive contemporary hotel.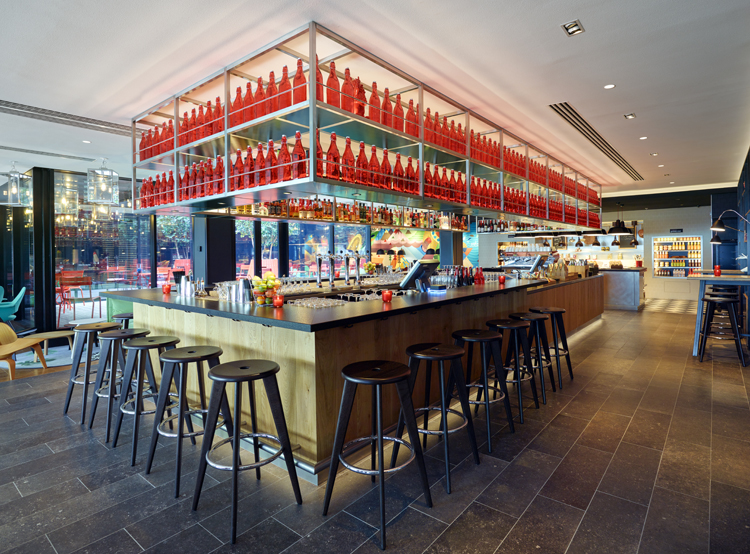 Just a short walk from the Marais district with its medieval streets packed with bars, restaurants, boutiques, art galleries, and a short stroll from the river Seine, CitizenM Gare de Lyon is perfectly placed for those in search of culture or commerce. Anyone with a sense of adventure, an independent spirit and an appreciation of affordable luxury will find their home at citizenM Gare de Lyon.
all the images in the post by Richard Powers | courtesy of concrete – main image courtesy of CitizenM
Comments
comments