French architect Christophe Benichou has teamed up with Lumicene, a company that has developed curved, reversible sliding windows, to design LumiShell, a prefabricated dwelling conceived to provide a comfortable cocoon to escape from the urban life through immersive stays in the wilderness.
Its design is a response to the aim of blurring the distinction between indoor and outdoor space in a unique way, to offer the experience of being outside while enjoying the inside comfort. The fruitful collaboration fostered this small-sized accommodation highlighted by two Lumicene's windows, respectively housing a living room and a bedroom.
Both rooms provide unique panoramic views and can be occasionally transformed into outdoor spaces to enhance the feeling of being transplanted in the middle of vast scapes. Various mirrors also create reflections that diffuse the landscape in the heart of the dwelling.
The whole is wrapped with a protective aluminum skin, which appears as folding and shrinking to seemingly recover the original fœtal position. Thus, standing alone in the boundless landscape, Lumishell appears as a humble and welcoming shell, a comfy cocoon in the wilderness.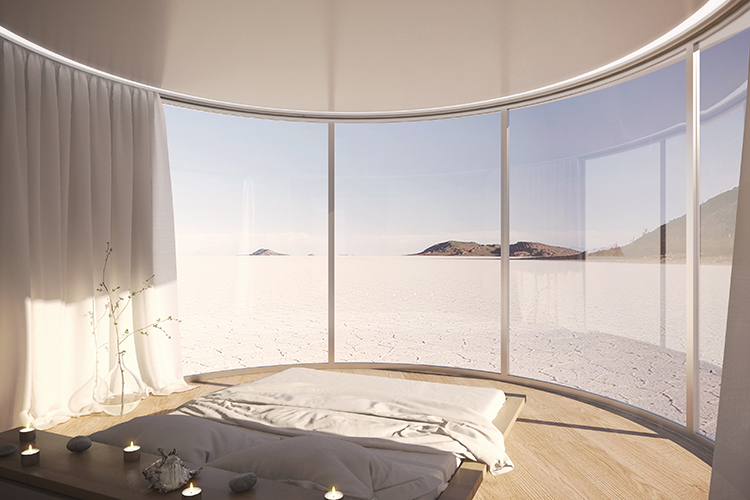 Most images presented here feature the Bolivian Salar de Uyuni, a vast and lunar salt desert as if this shell-like house was expecting the high tide return. LumiShell pre-orders are already available and first installations are expected in the course of 2018.