On the occasion of the Eurobike 2014 Philippe Starck and the manufacturer Moustache Bikes unveiled M.A.S.S. – 'Mud' 'Asphalt' 'Sand' 'Snow' – their first collection of electric bikes. Each bike features specific ergonomics adapted to its terrain and field of exploration.
This collection is a revolution in the discovery of bike territories. M.A.S.S. bicycles by S+ARCKBIKE offer 4 intelligent concepts whose technological specificities offer users the ultimate experience in absolute freedom of movement and grand comfort.
MUD is an all-terrain bicycle whose medium hot grayscale colours combine elegance and discretion. Developed around a dual suspension frame and high-end components, it is equipped with the latest generation in gearing and Shimano XTR brakes. It has the concept of differentiated diameter 27/9 wheels introduced by Moustache and ultra high performance Fox and Rock Shox suspension.
ASPHALT is for fast and comfortable urban use thanks to its dual suspension frame. This charcoal grey model has a Shimano Alfine Di2 11V shifting system, integrated hub and is electrically driven. Connected to the Bosch powertrain, the shift is optimized and super high performance. Schwalbe tires and comfort elements like a fi'zi:k saddle complete the picture. Initially available in a 25 km/h version, it will also have a 45km/h counterpart.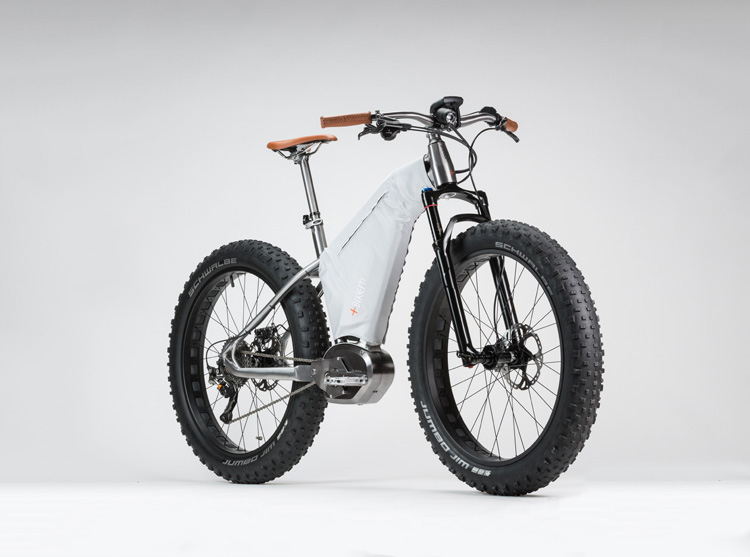 SAND in a warm light grey colour, offers the opportunity of exploring the infinite spaces of the coast right next to the water. The huge Schwalbe tires provide the necessary lift on the sand and complement the comfort provided by the Bluto Rock Shox forks. Equipped with the Bosch system and the top of the line Shimano XTR gearing and brakes, it is adorned, among other things, with a protective cover for foul weather and integrated stowage.
SNOW is dedicated to the discovery of virgin snow territory that echoes its brushed glacier colour. As for SAND, huge Schwalbe tyres offer lift and traction. The mono-arm fork allows optimum snow evacuation. Equipped with the Bosch system, Shimano XTR gearing and brakes, it even has a synthetic fur frame cover that protects the battery from extreme temperatures.
A line of tailor-made accessories dedicated to each use and each model complements the elegance of the collection: Causse gloves, Giro helmets, S+ARCKEYES glasses and backpacks.