Commissioned to create a paradise experience for kids and adults, X+Living has recently designed the Magic Hotel in Hyzhou, China. Combining the characteristics of consumers, Magic Hotel not only meets the needs of children, inspires the entertainment and playfulness of children, but also takes into account the needs of business people, and arouses the inner childlike innocence of adults.
The reception hall, as the main residential space and important social space for guests, is the most interesting place with rich design. Designers set up public areas as children's entertainment space. According to the different groups of people, the loudspeaker devices in the lobby have different size, which means that children and adults can participate in the interaction. In order to create entertainment and play space for children, designers choose colliding colors to attract children's attention.
Business groups can use elevator, while children who like to jump up and down will not "walk appropriately". For this reason, designers created a channel for children. The space between the first and the fifth floors is connected, and the whole space is connected by the tree house on the fifth floor, which can satisfy the exploratory desire of children and release their climbing nature. At the same time, two slides beside the tree house can meet the needs of older children for relatively stimulating entertainment facilities and release their enthusiasm.
From the lobby area to the guest room area, entertainment facilities are gradual decrease, which not means there is a serious monotonous corridor. The combination of rainbow door and loudspeaker devices separate different spaces. Bright colors are also a reminder customers that they will enter another space.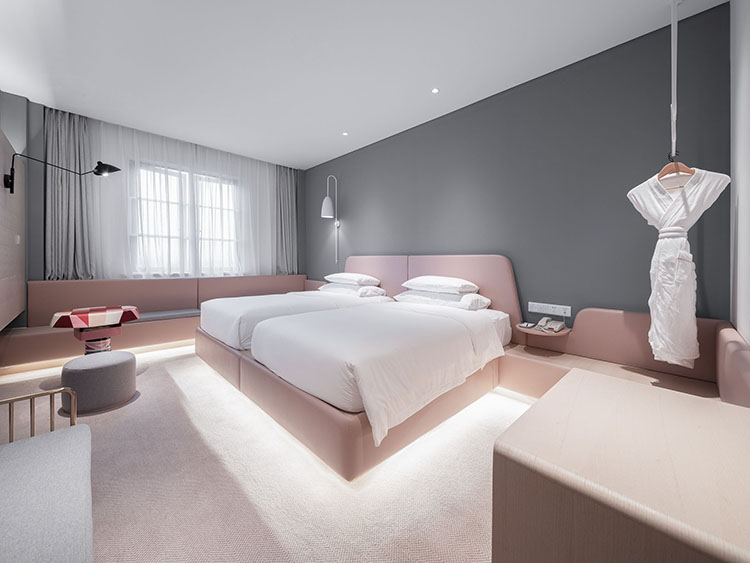 Public corridors create a sense of paradise with lively colors and geometric figures. The Memphis design style on the doors of guest rooms evolved into king and knight. The patterns on the doors of guest rooms and the wall lamps of corridor produced narrative linkage. It could changed into a spear in knight's hand and a scepter in king's hand, which could guarding their rooms. The patterns in the doors extend to the ground, which adds a bright spot for the whole corridor. This interesting design concept could prolongs the time of aesthetic experience.
Children need space for play and activities, while adults pay more attention to the quietness and tidiness of the room. Rooms adopt a simple and fashionable design style, using soft color matching and essential functional facilities to build a quiet and comfortable rest space. Separation and merging of mattress can realize fast conversion between king room and queen room. The combination of the bench and the sofa is a brand new children's bed. The facilities in the rooms basically use soft leather, which could ensure the safety of children in the greatest extent and increase the friendliness of children. From the lobby to the guest rooms, the environment gradually becomes quiet and away from the noise, everything is telling you: have a good dream.