New York-based Art and Architecture studio MARC FORNES / THEVERYMANY has installed HYPARBOLE at the entrance of Rhode Island College's Fine Arts Center. In a burst of green curves, HYPARBOLE stands delicately and confidently as a gateway to creative practice. At the entrance to the Fine Arts Center, the pavilion ushers studio-goers, faculty and campus visitors alike toward inspiration and action. Its oculus ascends to an imposing height of 22′ at this focal point, making it a force majeure touching down on only three concrete bases.
HYPARBOLE's multifaceted formal character draws visitors in from all angles. Its three paraboloid edges peel up towards distinct directions of approach, and its stature ensures that it is visible from the extents of the site, yet it never detracts from the building that it announces. Inside, it provides a whimsical and unfamiliar environment in which lingerers and passersby can lose time under a dappled light. Revealed within is an oculus with a magnetic pull: a central opening in the surface projects up to a height of 22'. Your instinct is to gaze up, but inevitably you are lost in the push and pull of the form, its patterning, its improbable height, and thinness.
To minimize fabrication costs, MARC FORNES / THEVERYMANY designed a geometrically-efficient surface. The structure responds to the work of 20th-century architect Felix Candela. "Our treatment would exchange his reinforced concrete for our signature single-surface in aluminum, disbanding with an abundance of material in the process," explains the studio. "Through development, we reinforce the idea that designing for this kind of fabrication would compromise neither structure, form, nor efficiency."
HYPARBOLE utilizes a complex, geometric shape — known for its strength and ability to distribute weight. The hyperbolic paraboloid is three dimensional with a double-ruled surface. 'HYPARBOLE' is the sum of many individual parts. The design team describes the culmination of the individual, aluminum pieces as "efficiently nested onto a sheet of flat material for a more economical process of fabrication," a process known as structural pleating developed by MARC FORNES / THEVERYMANY.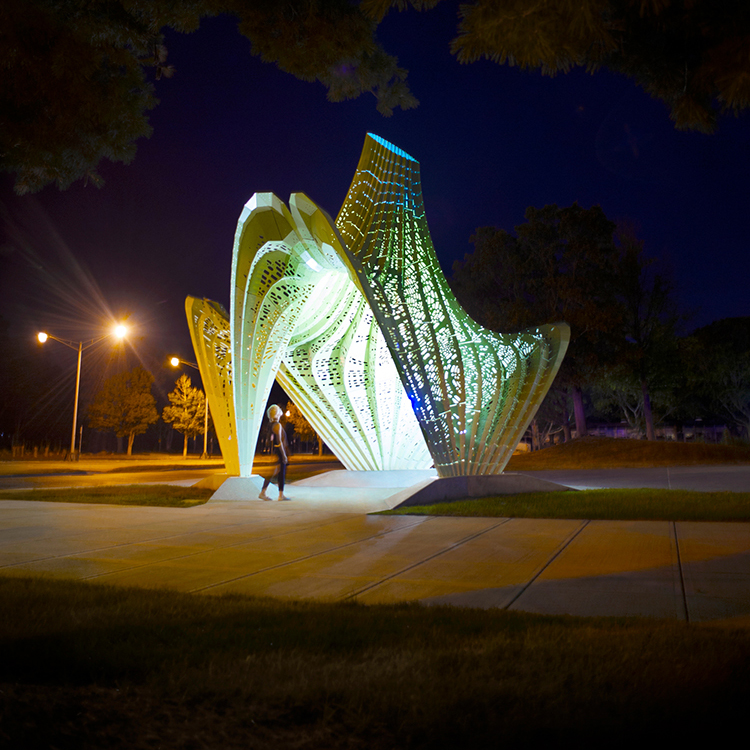 all images courtesy of MARC FORNES / THEVERYMANY