MB&F has unveiled the Legacy Machine FlyingT, the first of brand's three-dimensional horological art pieces dedicated to women. A round case in white gold, with a steeply cambered bezel and slender, elongated lugs, is fully set with diamonds. A high, extravagantly convex dome of sapphire crystal rises from the bezel. Beneath the dome, a subtly curved dial plate, liquidly black with layers of stretched lacquer or glittering with blazing white diamonds.
An asymmetric ventricular opening in the dial plate frames the heart of the LM FlyingTengine – a cinematic flying tourbillon that beats at a serene rate of 2.5Hz (18,000vph). The tourbillon projects high above the rest of the engine, a kinetic, dynamic column that stops just short of the apex of the sapphire crystal dome. Affixed to the top of the upper tourbillon cage is a single large diamond that rotates simultaneously with the flying tourbillon, emitting the fiery brilliance of the very best quality stones.
At the 7 o'clock position – another reference to the numeric theme that runs throughout LM FlyingT – is a dial of black or white lacquer that displays the hours and minutes with a pair of elegant serpentine hands in blued gold. The dial is inclined at a 50° tilt so that the time can be read only by the wearer, an intimate communication that highlights the personal nature of LM FlyingT.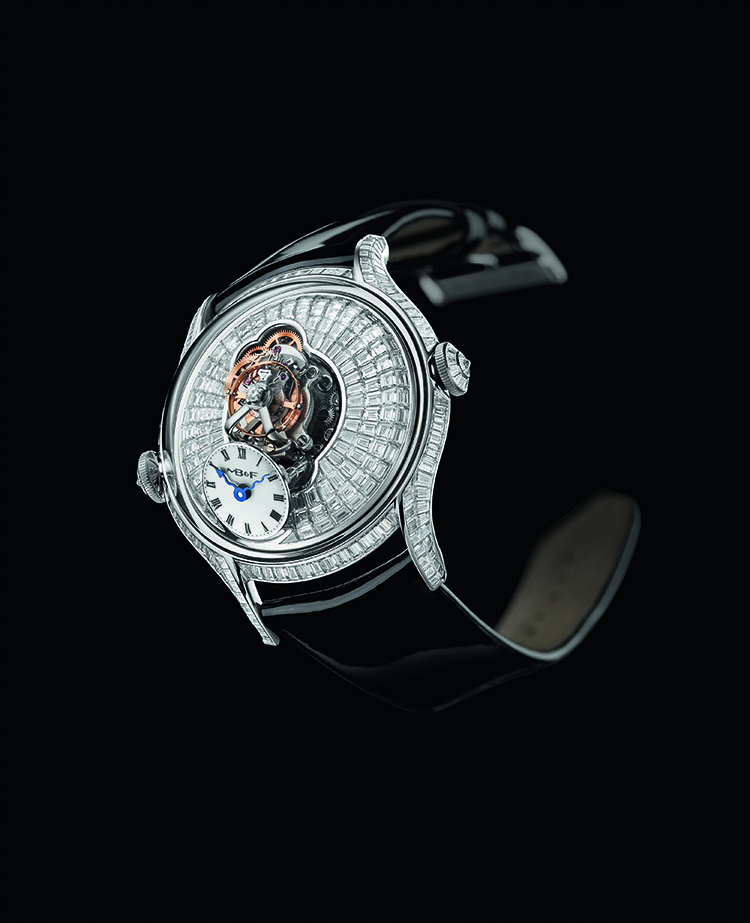 On the reverse, the automatic winding rotor takes the shape of a three-dimensional red-gold sun with sculpted rays, providing LM FlyingT with four days of power reserve. The design of Legacy Machine FlyingT is replete with associations drawn from the feminine and maternal influences in Maximilian Büsser's life.
"I wanted LM FlyingT to possess the epitome of femininity as reflected by the women in my life, particularly my mother," says Büsser. "It had to combine supreme elegance with tremendous vitality. The column-like structure of the flying tourbillon was very important to me as I felt very strongly that women form the pillar of humanity. At the same time, there is another layer of meaning coming in from the sun-shaped rotor, which incorporates the element of life-giving, a source of sustenance which we gravitate towards and around." Legacy Machine FlyingT is available in three editions, all in white gold and set with diamonds. The timepiece starts at $115,000 USD for the black lacquer version, $145,000 USD for the pavé-diamond-set version, and $315,000 USD for the baguette-diamond-set version.