Every year, 373 million travellers spend their time in NS trains. In NS's (the Dutch National Railway Company) future vision for 2025, the train will be more than a means of transport. Travel time will become more attractive and will be part of travellers' 'own time'. Dutch architecture practice Mecanoo and furniture maker Gispen were asked by NS to collaboratively shape this vision.
The result is a flexible and modular train interior that enables a wide variety of configurations and facilitates train passengers' diverse activities. Every traveller and every journey is unique. Mecanoo and Gispen, in cooperation with NS, have mapped train passengers' activities. Based on this research six activity zones were defined, ranging from open and social to private and concentrated. These activity zones are differentiated by varying arrangements of twelve furniture modules. The modules include both current and new train interior elements and configurations.
A dynamic travel landscape is created with various seating, 'stit' (sit-stand or leaning) and standing places where every traveller can find a place that suits them depending on their activity, travel time, group size, luggage and required facilities. The new train interior facilitates a wide range of activities. It is comfortable, accessible and welcoming to everyone. These qualities coincide perfectly with Gispen's experience in furniture making and with Mecanoo's experience in the architectural and interior design of museums, libraries, schools and offices.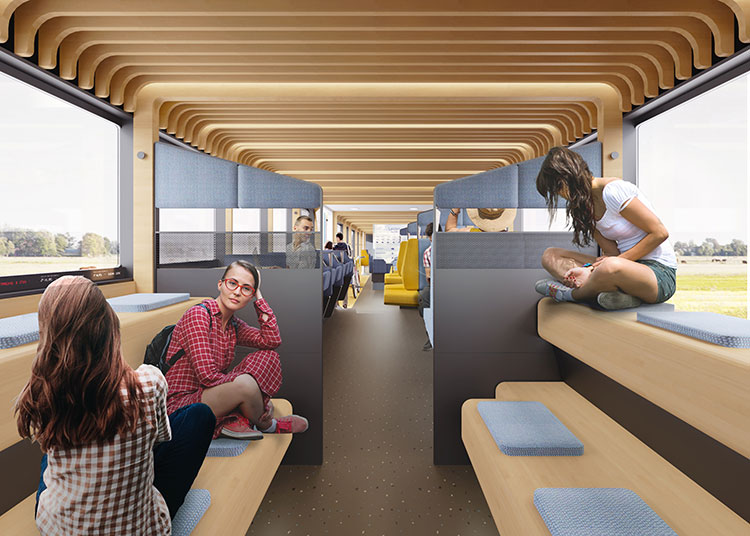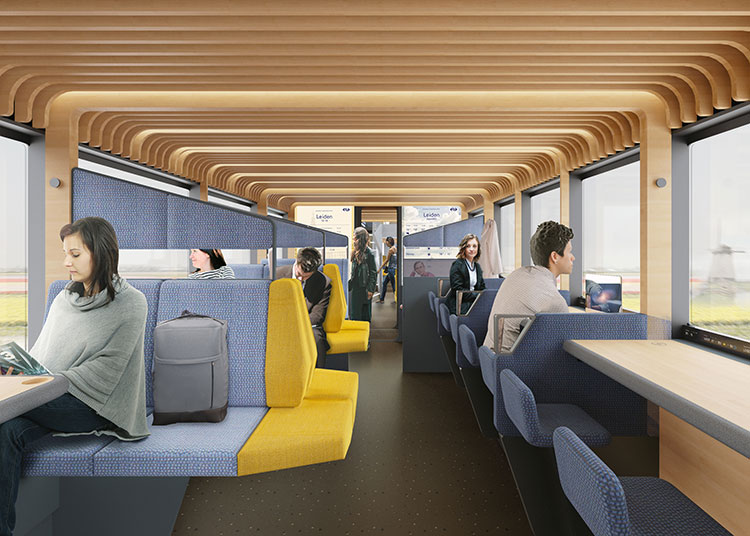 The result is an innovative train concept that makes travelling a whole new experience. With the flexible twelve-module furniture system, a suitable combination can be made for every type of train for an optimal travel environment. The elements have a completely circular production model. The fabrics are reusable and the modules can be easily disassembled and are interchangeable. The NS thus flexibly accommodates travellers' needs and is prepared for the sustainable mobility of the future.