New York-based studio Meyer Davis has transformed an old printing house in the West Loop, a neighborhood on the western bank of the Chicago River that was formerly a center for manufacturing, into an elegant, midcentury American brasserie.
The design team has embraced the existing architecture of the old Warner Printing Company, highlighting the beauty of its remnants. Barrel vaulted ceilings are uplit, and existing columns are clad in soldier stacked blue tile, with blackened steel strapping details.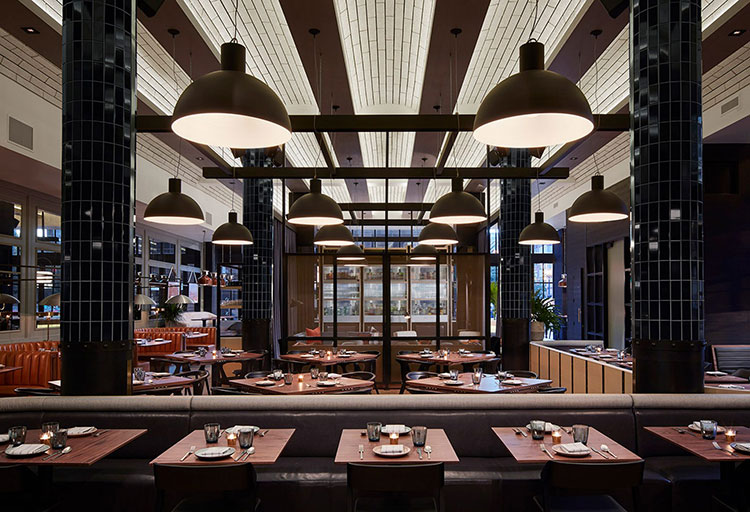 Walls are clad in a light washed wood, with inset tinted mirror and brass details. The picturesque bar boasts a statuary stone top, leather quilted upholstery at the front, and a wood and brass detailed back bar, with elegant pendant lighting and floors laid with bright blue cement tiles in a pattern custom designed by Meyer Davis.
The restaurant offers multiple seating vignettes, creating opportunities for varying types of gatherings. The front bar and lounge space have high top seating, lending itself to after dinner drinks or a working lunch. Varying types of banquettes hug the perimeter, each with custom sconces illuminating their parties.
The central main dining room is flanked by long custom leather banquettes that face outward, while the interior they create is filled with leather dining chairs and cleaned up warehouse pendants hung by fabric cable from the sky-high ceilings.
For serious diners, a chef's table in the back of the restaurant is clad in Noir St. Laurent marble and faces an open working kitchen, framed by fluted glass and white subway tile. Chef Andrew Zimmerman wanted to feel more connected to the dining room and guests, therefore his dream kitchen came alive in the open space of the kitchen design.
The private dining space is located beside the kitchen, with dark oak paneling, custom dining tables, and floor to ceiling drapery, creating a romantic and friendly interior for the private parties Sepia is known for.
Meyer Davis has also worked with the restaurant group to curate custom artwork for the space, as well as decorative pieces that recall the global influence of Chef Andrew Zimmerman. Each area is unique, and thoughtful, with tailored yet bold materials, that tell an eclectic story about what contemporary casual dining means today. Crafted with materials meant to wear well, and a bright, welcoming attitude, Proxi hopes to be a neighborhood favorite, as well as a Chicago dining destination.
all images © Dave Burk