Known for incredibly detailed one–of–a–kind Hummer customizations, Mil-Spec Automotive is debuting their newest bespoke build, #006. The sixth new H1 from the Detroit-based company features a sleek slant-back and an overall design heavily inspired by its celebrated military platform. Aiming for the perfect blend of tactical-inspired power paired with modern engineering, #006 represents the finest H1 build yet from Mil-Spec Automotive.
"Six really is the culmination of everything our company has learned over the past four years restoring both the military and civilian model Hummers down to the smallest detail," commentsMil-Spec Automotive CEO Adam Mitchell. "These trucks offer so much potential and really are amazing platforms for a company like ours to come in and re–engineer as well as redesign them as bespoke builds for enthusiasts looking for something completely different."
As a starting point, Mil-Spec Automotive used their second build (another slant-back) as inspiration. The commissioning client requested a higher–fidelity version of #002. Mil-Spec Automotive Lead Designer Ian Broekman created the overall theme, opting for a more utilitarian aesthetic that highlights the strong H1 stance with a clean design. Mil-Spec Automotive wanted to evolve every aspect of #006, and tighten up every aspect of the truck in terms of design, engineering, fit, and finish.
A 1996 4-door slant-back H1 served as the donor vehicle. As with every Mil-Spec Automotive build, the vehicle is completely disassembled and rebuilt to mint condition. The job involves replacing the factory seam-sealed floorpan with a fully welded aluminum unit. The in-depth process also actually shaves some vehicle weight while significantly adding rigidity and dampening overall road noise. Mil-Spec Automotive also fabricates any necessary replacement body panels out of aerospace-grade aluminum. This includes door skins as needed.
The most unique aspect of #006 is its adjustable suspension system. The #002 Slant-Back also had the optional Mil-Spec Air-Ride suspension, but a more refined self-leveling execution was used for the new #006. This system adds about four inches of ride-height adjustment to increase off-road ground clearance when needed via RideTech airbags at each corner. Accuairpneumatics and switches control the airbags for in-cab height adjustability; the self-leveling feature compensates for the added weight of rear-seat passengers and/or cargo. Unsprung weight is controlled to taste via 8-way-adjustable shocks.
Like its predecessor #002, the new slant-back's exterior is finished in Deep Sky Black textured spray-on polyurethane material, which is infused with Kevlar to help fend off brush and shopping-cart scratches. Black semi-gloss trim accents give a murdered-out effect but with subtle contrast. Other exterior options include the functional Mil-Spec hood scoop that decreases underhood temperatures, heavy-duty bumpers with a front Warn 12,000-pound winch, an all-aluminum offset snorkel, and a windshield-mounted 60-inch Baja Designs OnX6 LED lightbar.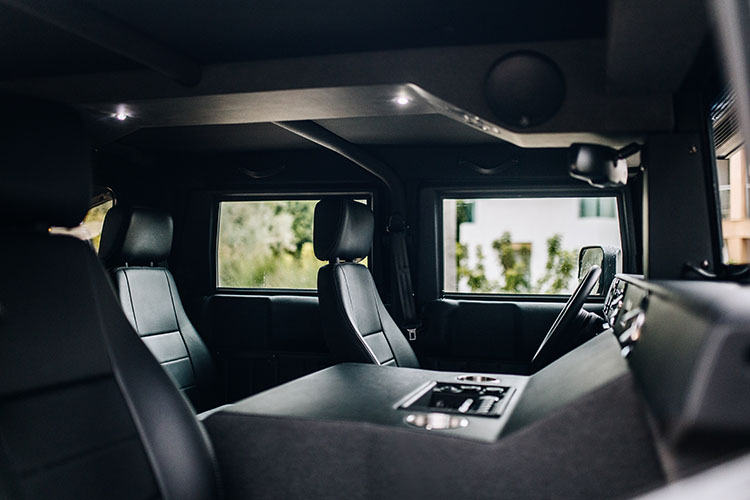 The new Mil-Spec Automotive H1 #006 is part of the company's inaugural Launch Edition line. Limited to 12 bespoke vehicles created between 2018-2020 — this one cost the buyer $295,039 — all Launch Edition H1 feature significantly upgraded powertrains. Instead of using the original 6.2L GM diesel found in most H1, Mil-Spec Automotive uses the LBZ version of the 6.6L Duramax engine found in the final-production-year 2006 "Alpha" Hummers. Each engine is rebuilt and assembled in-house to produce 500 horsepower and 1,000 lb-ft of torque. This is a significant improvement over the original specs: 360 hp/650 lb-ft.
Gear reduction comes from an Allison 6-speed automatic transmissions that is prepped by MSA to handle the extra Duramax power. To maximize reliability, Mil-Spec replaces the factory all-wheel drive system with a late-model GM HD truck system: the part-time New Venture Gear 242 2-speed transfer case so that the front axleshafts aren't being driven when the vehicle has traction on pavement. To reduce noise/vibration/harshness (NVH), Mil-Spec engineered the motormounts and transmission crossmember to optimize drivetrain angles and add rigidity. Prior to assembly, Mil-Spec powdercoats the frame to combat corrosion.
For #006, Mil-Spec also upgraded the 29-spline axleshafts and 1.92:1 portal gear-reduction units to the military Humvee 12,000 GVWR versions. To maximize traction without adversely compromising steering, a selectable ARB Air Locker was added to the rear axle. Also, brakes are upgraded to Wilwood 12.25-inch slotted/drilled rotors downstream from a Hydratech hydroboost unit that uses the power-steering pump to add pressure to the braking system.
Tires are 38×13.50R20 Nitto Ridge Grapplers on 20×9.5 Black Rhino Armory military-look beadlock wheels in Matte Gunblack for a mature and function-focused look. Some customers like the factory Hummer wheels with central tire-inflation system (CTIS), but Mil-Spec Automotive feels that this system is more leak-prone. Instead, most customers work with Mil-Spec to choose aftermarket wheels. For dependable inflation, Mil-Spec Automotive adds an on-board compressor to supply inflation and service air. A quick-disconnect air fitting is mounted on the rear bumper, and a tire-inflation hose is included inside the cab, stored in the rear console.
Mil-Spec Automotive's in-house designers also work with clients to completely personalize interiors. The overall scheme on #006 is a function-forward two-tone black leather with black Tough Duck marine-grade canvas accents to match the truck's triple-black theme. Instead of carpeting, Mil-Spec chose an all-weather vinyl fabric for optimal durability. This covers the polyurethane-coated body tub. Sound-deadening material is also added generously to help overcome the H1's rattly DNA. Acoustic control extends to the padded headliner, which runs the length of the vehicle, through the Slant-Back hardtop.
The rest of the interior retains only the original front-seat brackets. The instrument panel and gauges were designed in-house by Mil-Spec. Features include an altitude reading, GPS speed, and performance-capturing for top speed, 0-60 mph, and quarter-mile times. A MOMO Prototipo steering wheel is covered in upholstery-complementary leather.
All controls and vents are positioned aircraft-style in the custom center console. Dual Vintage Air systems provide separate A/C for front and rear seats. Convenience items also housed in the console include numerous USB and 12v lighter-style power ports, four cupholders, storage trays, and a rear lockbox. Infotainment is marine-grade, 9-speaker JL Audio equipment pumping out 700 watts of power. Dual batteries with a marine-style shut-off and a 200-amp alternator supply sufficient juice for charging and accessories. A back-up camera is integrated into the rearview mirror. Paracord grab-handles extend the tactical overtones. Finally, the customer expressed interest in fitted luggage. Mil-Spec sourced a tactical-inspired solution that matches the truck's aesthetic with Pelican Elite Travel System Luggage: Carry-On, Weekender, and Vacationer.