In an almost mythical setting tucked into the picturesque coves of Crete, Minos Beach Art Hotel is an assembly of waterfront bungalows and gardens that spans 2.5 km of coastline with an open-air art museum at the core of its concept. Here, on the southern Greek isle, an original building from 1963 and a cluster of bungalows and villas with private pools house 121 rooms, which have been radically renovated while retaining a throwback fishing village charm. Once inhabited by local fishers decades ago, today the waterfront slice of paradise boasts two sandy beaches—the pinnacle of secluded luxury—more than 50 unique art installations, and high regard for all that is local and sustainable.
Located on the shores of Mirabello Bay, Minos Beach Art Hotel is just a few minutes away from the elegant resort town of Agios Nikolaos. Drawing on the traditional architecture style of eastern Crete's fishing villages, the low-lying whitewashed villas and bungalows are set in harmony with a landscape of craggy rocks, sandy shores, abundant greenery, and unobstructed views of the Aegean Sea. Inside, sleek design is complemented by a tactile world of raw concrete and tile, exposed wood beams and joinery, and earthy jute.
A deep respect for the balance between the local environment and economy means much has been sourced from Crete and within the country. Custom-designed rooms feature Greek beds by Adorno and mattresses by Elite Strom, both Greek companies, and materials-at-large have been selected with minimal environmental impact as a criteria. Taken together, a warm and neutral palette provides the perfect backdrop to the hotel's more than 50 art installations displayed throughout the property, creating a living-museum atmosphere.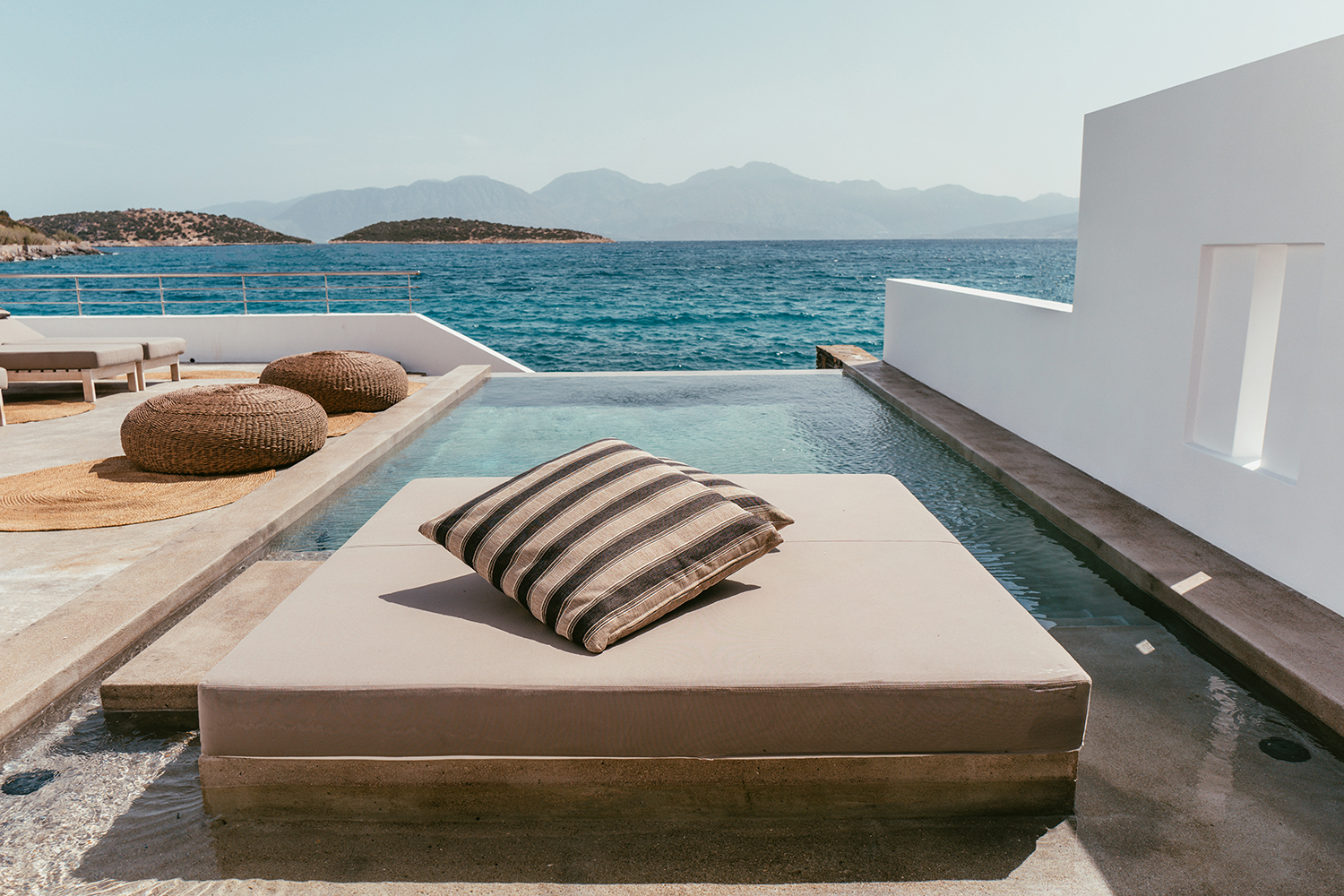 Artworks inspired by the island's natural surroundings are site-specific commissions by local artists created for the hotel and its garden, and are rounded out by a selection of work by international artists. The hotel's connection to the art world goes back to 1988, when Original Gina Mamidakis organized the very first Art Symposium. Driven by the idea that tourism should be a holistic cultural experience—pioneering for the time—Mamidakis long ago planted the seeds for a thriving cultural experience rooted in Greek hospitality. The mission of the G. & A. Mamidakis Foundation is to create and implement programs and actions that are consistent with its vision concerning the arts, people, and the environment. Much of the G. & A. Mamidakis Foundation art collection is found in the hotel and its Open Art Air Museum.
Award-winning chef Giannis Baxevanis oversees the culinary program, drawing upon a handful of trusted local suppliers. Much of the produce used in the three restaurants, four bars, and kafenio (traditional coffee shop) are sourced from trusted local suppliers in and around Agios Nicolaos, including many of the wines that come from area vineyards and wineries. Guests have an abundance of options for great Greek and Cretan cuisine, from the pool bar or seafront wine bar to al fresco dining and a more formal fine restaurant experience at La Bouillabaisse. With community wellness at the forefront, Minos is committed to taking concrete actions that support local businesses and products, with the aim of protecting and restoring the natural environment, vulnerable communities, and staff wellbeing.